Casey Stoner: Working with Jorge will be special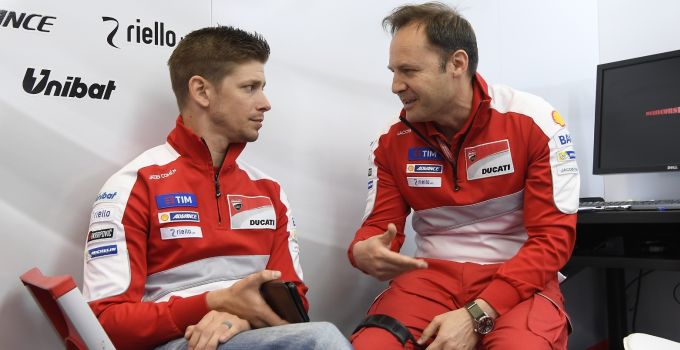 Ducati test rider Casey Stoner said that he is excited to be working with reigning MotoGP World Champion Jorge Lorenzo for next season.
The Spaniard will leave Yamaha at the end of 2016 after 10 years with the Japanese factory in favour of Ducati. The Italian company have failed to win a MotoGP race since Stoner himself left Ducati in 2010, however Ducati are hoping that now they have a bike capable of winning races, Lorenzo will be the final piece of the jigsaw.
Stoner himself has come back to the MotoGP paddock this year – albeit in a sporadic testing role – with Ducati, and he was in Mugello this past weekend. Whilst Stoner was predominately there to support Ducati, although he did add that he wanted to make the effort to touch base with Ducati and check in on the developments that both Ducati and Michelin have both made since he was last on the bike. 
Whilst in Italy, Stoner said that he cannot wait to meet up and work with Jorge Lorenzo, someone who he competed with almost weekly when he was a rider.
"I have so much respect for Jorge. In the past we raced each other for a long time, and he's now come to Ducati with a lot of experience and is a much more mature as a rider. This is something that is very important," the Australian told Movistar +.
"I think I can offer a lot to the team, and along with with Lorenzo's arrival it's a new era for Ducati in MotoGP," he said.
"I'm looking forward to seeing what work we can do, because I've never worked with him. As I said, I have so much respect for him and I think working together, towards the same goal will be something very special. It's something I'm already looking forward to."
Photos via Ducati Corse