Sam Lowes completes two-day MotoGP test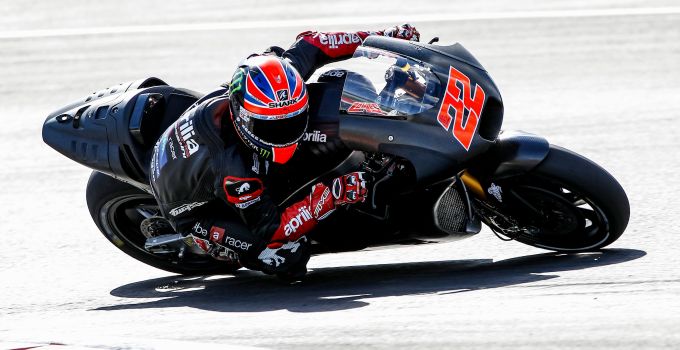 Britain's Sam Lowes has completed a two-day test with the Gresini Aprilia team, as he continues to familiarise himself with the Aprilia RS-GP ahead of next seasons move into MotoGP.
Lowes we secured a solid third position in the Czech Moto2 race this past weekend in Brno was back in action just two days after his podium finish at the Misano International Circuit, where he joined the full time factory Aprilia riders, as well as test rider Mike Di Meglio.
The primary purpose of Lowes' test was to get more experience under his belt as he prepares himself for his imminent move into MotoGP. Spending two days in Misano, Lowes completed 135 laps around Misano, and said he was happy with the progress he continued to make over the two days.  
"For me, this was a very good test," said Lowes.
"We got to the point of also starting to do some tests, beyond simply getting to know the Aprilia RS-GP. For me it is never easy to get off the Moto2 bike and get on the MotoGP machine.The first day I tend to take some less than perfect lines for the way these bikes should be ridden, but the second day, even looking at the telemetry, I get close to the style of the other riders.
"At the end of the day the gap is not bad at all. The potential of the bike is definitely high and I am more and more happy to be part of this project."
Awesome test in Misano … Big thanks to @GresiniRacing @ApriliaOfficial … Loving the MotoGP bike … #stepbystep #onit

— Sam Lowes (@SamLowes11) August 24, 2016
Lowes is currently third in the Moto2 World Championship standings, 44 points behind defending World Champion Johann Zarco.
Photos via Gresini Aprilia