Sam Lowes on the verge of Gresini deal; Moto2 in 2016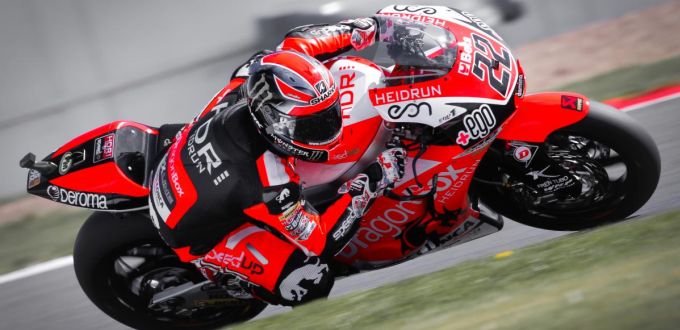 British Moto2 star Sam Lowes looks set to sign a three-year deal with the Gresini team from next year, which will see him stay in Moto2 for 2016, before moving to MotoGP in 2017.
It is common knowledge that Lowes had a pre-contract with the Gresini Aprilia Factory MotoGP team, but his move into MotoGP may end up being delayed a season, due to the form of the current replacement rider Stefan Bradl. 
Since Bradl came in replacing Marco Melandri, the German has impressed on the RS-GP. So much so, that he announced today at Misano, he has signed a one-year contract extension with the Italian team, extending his stay into 2016. In the wake of his new contract, Bradl will get his first taste of the latest edition Aprilia bike, putting him on the same material as team-mate Alvaro Bautista from this weekend.
As a result of this, Lowes has been talking to Avintia Ducati and the Honda Power Electronics Aspar team, regarding a ride for 2016, but he told GPxtra in an exclusive interview that he close to signing a three year deal, which will see him stay in Moto2 in 2016. 
"We're close to doing a deal for the next three years," Lowes told GPxtra. "It's definitely something interesting, and it will see me go to MotoGP. Whether that's next year, or the year after, that's soon to be confirmed.
"But I think it's nice to know that there are people in this paddock who've seen what I have achieved over these two years, and they're willing to put a lot of effort behind me. They're also willing to give me time, so I can be where I need to be, which is nice. Hopefully it's announced within the coming weeks.
"It's definitely something big going on, in my opinion, and I think when it comes out it will be great."
The Aprilia team run under Fausto Gresini's watchful eye. As well as having the Aprilia team under his umbrella, he of course also runs team in Moto2 and Moto3. Gresini's Moto2 team currently runs Belgian Xavier Simeon on a Kalex chassis. The theory proposed is that Lowes will challenge for the 2016 Moto2 World Championship, aboard a Kalex rather than a Speed-Up. Whether that is instead of, or alongside Simeon isn't clear. After a final season in Moto2, Lowes would then move into MotoGP on a two-year deal in 2017.
The 24-year-old Briton would also be given the opportunity to test the Aprilia, in a bid to give him the best preparation for when Lowes eventually makes the jump into MotoGP.
Photo via MotoGP.com