Lowes to make Aprilia MotoGP testing debut after Assen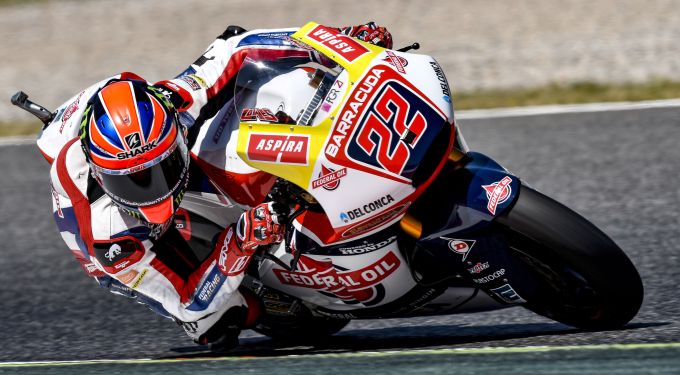 Sam Lowes confirmed he will get his first taste of the Aprilia MotoGP machine, 'after Assen' ahead of his move into the premier class for 2017.
The Moto2 front runner signed a three-year deal that saw him move to the Gresini team in Moto2 for 2016 ahead of two seasons aboard the factory Aprilia for 2017 and 2018. 
Lowes confirmed that he will get his first taste of the RS-GP after the next round of the World Championship which is held in Assen over the weekend of June 26th, and before the next round in Germany three weeks later. 
"I am actually going to the wind tunnel this week first with Kalex and Aprilia in Italy, which will be nice as I have never done that before," the Englishman told MotoGP.com.
"I didn't come up through 125's and 250's and it's a bit different getting tucked in on a Supersport bike, so maybe we can find something in that area.
Then after Assen I get my first go on the Aprilia and I really cant wait."
Lowes is currently eight points behind Alex Rins in the Moto2 World Championship standings and has seen his stock rise almost weekly with every strong performance. Despite speculation that other factories had sounded out the Brit, Lowes said his concentration and interest never deviated away from the contract already signed with Aprilia.
"For me it was a case of, I have signed my deal and I am really happy with it. It's a great option; the bike is only going to get better from what it is now. If you look at Rins and Zarco they also have deals in MotoGP next year and they won't really be in a much better position than me. With their records, that makes me quite happy," he said.
"I also have a great package and team behind me now with Gresini, so for me it will be great to go into MotoGP with that behind me. You always want to be riding next to Marquez or Rossi, but for me the Aprilia project looks really good and since I signed that contract last year I have not considered anything else."
Having never competitively ridden anything larger than a 600cc, Lowes will have to adjust to the extra power of a MotoGP machine. Despite having to adjust to the extra horsepower, Lowes actually beleives the brakes will be the biggest thing he will have to adapt to.
"I think the stopping power with the carbon brakes is quite big. Plus I think the electronics side of things, but I have a bit of experience with that in Supersport," said Lowes.
"While that was nothing like MotoGP, at least I have a little bit of knowledge. So for me it's the extra power and the stopping ability, plus of course the tyres, but that is applicable to anytime you change series. I'm not trying to think too much about it. I am just going to go out, ride and enjoy it."
Photos via Gresini Racing