McPhee wins first Grand Prix in soaking wet Brno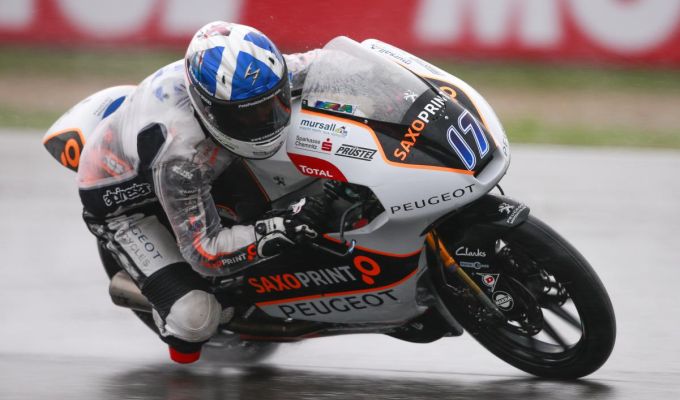 Scotsman John McPhee won his first ever Moto3 Grand Prix, after Moto3 World Championship leader Brad Binder crashed out of the lead with five laps to go, giving Peugeot their first ever Grand Prix victory. 
With an overnight storm of biblical proportions and rain continuing through morning warm up, McPhee would've fancied his chances of a strong result, however he surely couldn't have imagined winning his first Grand Prix by over ten seconds.
Getting out with the early leaders, McPhee then broke away with Binder, and looked set to finish in second place, however, with just five laps to go, an uncharacteristic mistake from the South African, crashing out the lead with a two second advantage. 
There was a huge heart stopping for the Scot with just three laps to go, almost firing himself out of his seat at turn 12, giving him a big enough warning to remain tentative.
John McPhee with a HUGE moment! Heart stopping stuff for McPhee https://t.co/iCtnVUagrv

— GPxtra (@GP_Xtra) August 21, 2016
Immediately after the race, the Scotsman said he could visualise a podium, and that it was the best feeling in the world.
"It's the best feeling in the world," he said. "Last night I could visualise the podium. I had a really good feeling about today. It's great!"
Behind McPhee, Jorge Martin claimed a career best second position, capitalising after a strong start to the race and Fabio Di Giannantonio rounded the podium. Rain specialist Khairul Pawi crashed out from second place, with a scary crash at turn 12, but luckily walked away from the crash.
Despite the crash, Binder still has a commanding lead in the World Championship, 62 points ahead of Jorge Navarro. 
Photos via MotoGP.com