Crutchlow: Marquez would still win on my bike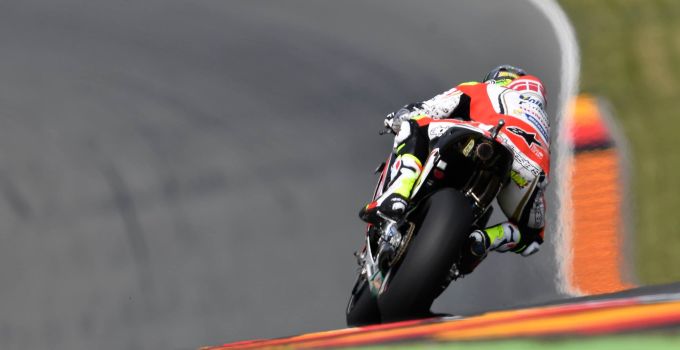 German Grand Prix runner up Cal Crutchlow has said that race winner Marc Marquez would still be winning races, even if he was on his LCR Honda.
The soon father-to-be has had a mixed season with his RC213V. A podium in the Sachsenring was an obvious high point, but it hasn't been easy for the former Factory Ducati rider, with the RC213V proving still immensely difficult to tame.
One man who has managed to not only tame the Honda, but also have great success on it is MotoGP World Championship leader Marc Marquez. The Spaniard currently sits atop the World Championship by 49 points, winning three races this season and only failing to finish on the podium once.
Despite riding for the Repsol Honda factory team, Crutchlow doesn't think that Marquez' success is down to the fact he's in the factory team, insisting that the Spaniard would still be winning races on his LCR machine. 
"To them (Marquez and Pedrosa), it's no big difference at all, we're talking about very small things," explained the Brit to Speedweek.com.
"If Marc were to ride my bike, he would still win. That's clear. I think a lot of people in this championship believe that if they just hop on a works machine, they're then faster. But that is not the case."
Despite believing that Marquez could win on his bike, Crutchlow knows that the RC213V is still far from a perfect bike. In spite of this, the 30-year-old is happy with the work Honda are putting in as a whole and how he is benefiting from the entire effort of the whole factory. 
"We work very closely with Honda. I flew to Malaysia and tested there, we tested the Michelin tyres and minor things with the electronics," he said. "We know that they listen to us exactly.
"I'm very pleased that they listen to my comments, as well as those of Marc and Dani. We are trying to improve as a manufacturer.
"Also my team wants to improve. It's just a matter of time before we getting a few things that have the factory riders already have."
Photos via LCR Honda