Marquez thinks Honda a good fit for Crutchlow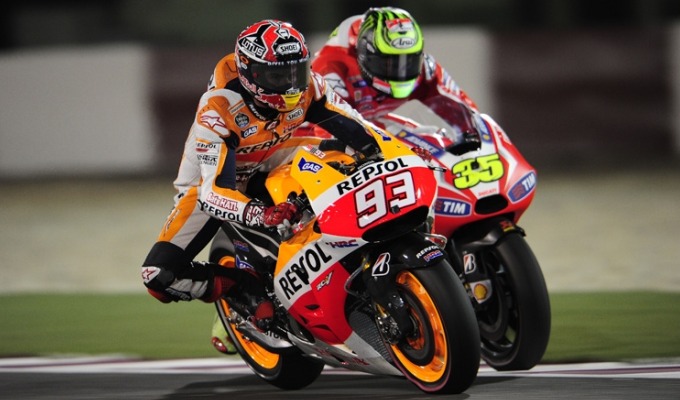 Reigning MotoGP World Champion Marc Marquez has said he thinks that Cal Crutchlow can do a 'great job' next season, once the Brit moves to Honda.
Crutchlow moved from the Yamaha satellite Tech3 team, and moved to the Factory Ducati team to try and tame the infamous Desmosedici. Unfortunately for the Brit his fate on the Ducati has been the same as riders with much more experience and will move to a satellite team, the LCR Honda team, next year, despite being adamant he would require a factory bike to progress in MotoGP.
Despite being only a satellite bike, it is a Honda RC213V. The same bike that has claimed all eleven wins so far this season, and has won Honda the team championship for the last two years. 

"I think it's a good step for him," said Marquez speaking before Crutchlow's home Grand Prix.
"He will have – I don't know if the same, or very close bike to my bike. Because normally in Cecchinello's team, Bradl's bike is completely the same as mine. 

"It will be good for him. He is struggling with Ducati. But I think, for his riding style, with Honda he can do a great job."
If Crutchlow's LCR Honda does end up being to the same spec that Bradl's is this season, Crutchlow will be hoping to finish top satellite rider, as he finished 2013.
The fourth RC213V is still up in the air at the moment, although the man expected to have the seat is Crutchlow's compatriot, Scott Redding.
Redding is currently riding the Honda RC1000R, and has impressed immensely, finishing as the top Open class rider in Indy in August. He was widely tipped to take the RC213V at Gresini, before it emerged that Gresini are struggling to find the funds to lease the RC213V next season, and have until this weekend to find the funds. Many now believe that Gresini will end up taking the Aprilia project on instead.
Marc VDS and LCR amongst other team are rumoured to be interested in taking the final prototype machine. With Redding contracted to HRC there is still a good chance he may get the RC213V when its location is decided, meaning Redding can rekindle the battles with Marquez from their Moto2 days. 
"I hope [Redding will get the RC213V] because he has good potential," he said.
"I fought with him in the past and he was a really good rider. Also really aggressive. Pushing all the time. I like that in a rider. I would like that he will get a factory bike. Because when you are in the Open category, even though next year will be better, you know you cannot fight every race with the top guys. It will be important for him."