Crutchlow top Honda through day one in Qatar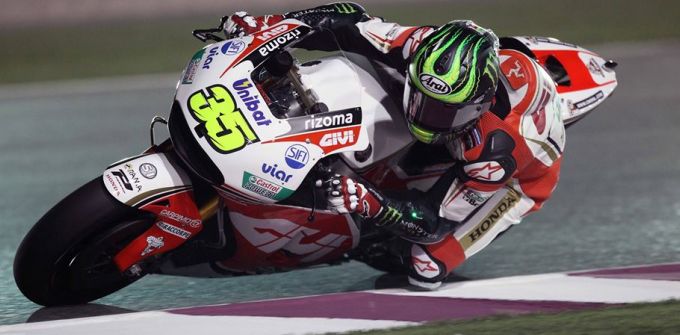 Briton Cal Crutchlow ended the first evening of testing in Qatar as the fastest Honda, as he got his first taste of the 2016 Honda engine.
Crutchlow's best time was a 1:56.510, was just over one second slower than the best time managed by reigning World Champion Jorge Lorenzo, and was good enough for eight fastest overall and the top Honda rider, beating factory Repsol Honda duo of Marc Marquez (10th) and Dani Pedrosa (13th)
Crutchlow and his LCR Honda team got their first taste of the new 2016 Honda engine, which has been made with the intention of giving a softer power delivery to his Honda RC213V.
Crutchlow was initially pleased with his new engine as he spent large portions of the first evening working on the finer details of his new engine, working to utilise it's strengths.
"Today was a bit of a 'getting-to-know-you' session with the new engine," said the 30-year-old.
"Everything else on the bike is completely as it was, but we were glad to receive the new engine from Honda. We found some positive things with it, but we have only tested it briefly to begin with.
Along with the new engine, Crutchlow was working towards a race set up, and worked solely on the harder compound Michelin tyre all day. The Brit developed a good understanding of the new Bridgestone rear, as he managed his best lap on the day on the rear tyre's 22nd lap.
"I used the hard tyre all day, and I felt good – I did my fastest lap after 22 laps with the hard rear tyre," he said. "So this is quite satisfying because we know we can do a good job, and I feel very comfortable at the moment to be able to go fast when we need. I don't think the result today reflects anything like what it would be in a race here."
Moving into the middle day of the three day test, Crutchlow will continue to work with his new 2016 engine, but will also move his attention to the front end of his Honda RC213V, trying to find more grip and stability under breaking into the corner.
"Tomorrow we're looking forward to trying some more things with the front of the bike because at the moment the limit is the front tyre," he explained.
"We have to stop the front moving so much under braking and into the corner, and this will be our main focus, but at the moment I'm generally really pleased with things."
Photos via LCR Honda