Rossi: The nature of the Red Bull Ring hurts us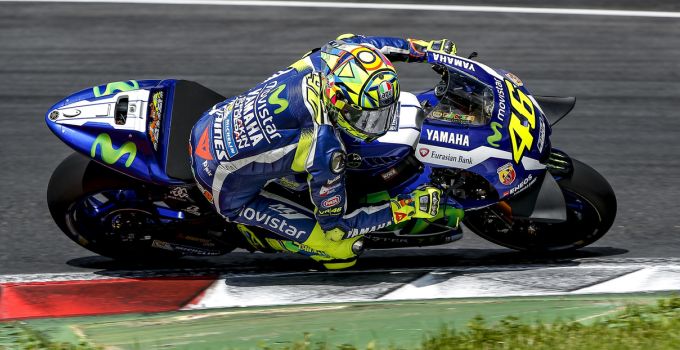 Valentino Rossi has said that a lack of corners is hurting him and his Yamaha team-mate, Jorge Lorenzo, during the first day of testing at the Red Bull Ring in Austria.
Rossi and team-mate Lorenzo lapped way off the pace of the fastest time of the day, set by Ducati's Andrea Dovizioso, with the Doctor the fastest of the Yamaha's albeit 1.3 seconds behind the Desmosedici.
The biggest strength of the Yamaha M1 is it's corner speed, something both Rossi and Lorenzo have fine-tuned their riding styles, in order to maximise the advantage of their motorcycles. However, the nature of the Red Bull Ring makes it a very anti-Yamaha circuit.
The circuit is comprised of four 'stop and go' corners, with long straights and only a few fast sweeping corners for the Yamaha to carry their speed through. As well as sharp corners, the circuit itself has roughly half the amount of a usual circuit. Whilst some tracks have in excess of 20 corners, the Red Bull Ring has only nine.
Rossi said that Yamaha are gaining valuable data ahead of next month's Austrian Grand Prix, but there is only so much they can do in terms of data collection.
"For us, personally, it's not the best circuit because normally we suffer a bit with the top speed, in fact we have to struggle," the Italian explained after the first day of testing in Spielberg.
"But it's just the first day, we take a lot of data, and we try to modify it tomorrow. It's a particular circuit because it's really fast and you stay a lot of time with full throttle," he said.
"Compared to normal circuits, you have a lot less corners. At the end of the lap there's nine corners and there's usually fifteen. It's fast, the place is good and also the corners are OK."
Photos via Movistar Yamaha