Rossi: In my opinion, Stoner wants to race again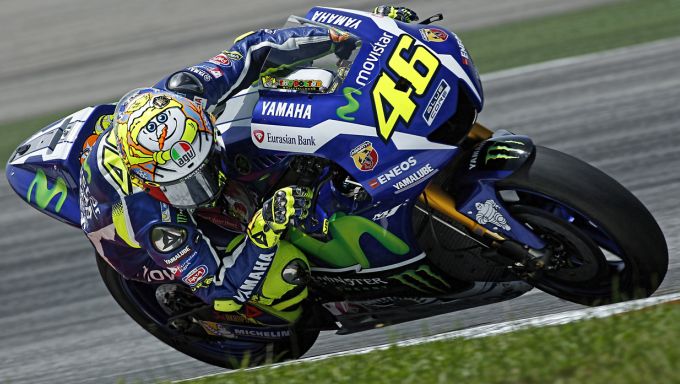 Valentino Rossi has said that he beleives his former rival Casey Stoner wants to make a racing return to MotoGP. 
The Australian made his high profile and long awaited return to MotoGP with Ducati during the first official MotoGP test from Sepang. Stoner got his first taste of the new Ducati on Saturday during a private, before sitting out Sunday in preparation of the two days he joined the MotoGP field for. The two-time MotoGP World Champion impressed hugely in the test, knocking over a second off his time in between the first two days. 
Stoner ended the final day of MotoGP testing as fifth fastest overall and fastest Ducati out of the nine that completed a lap during the rain affected day which Jorge Lorenzo dominated. Despite his immensely impressive speed, Stoner categorically denies he has any intentions of making a full time return to racing, insisting he is only on hand to aid Ducati in anyway he can. 
Valentino Rossi on the other hand is not convinced. The Doctor who had a fractured relationship with Stoner. There was the historic race at Laguna Seca back in 2008 when Rossi overtook the Australian down the "corkscrew", this was then followed two years later by Stoner's "your ambition outweighs your talent" comment in Jerez. Despite all this, the Doctor said it's nice to see a new name at the top of the timing sheets, but in his opinion, he wants to return.
"It has been nice to see a new name at the top of the rankings, along with Lorenzo, Marquez, Pedrosa and mine. But in my opinion, he wants to race again," the Italian told Marca.com. 
"I don't know what will happen, but it would make the championship more interesting. We'll see him on track often."
Despite his constant denials that he wants to return, after the day's testing has concluded, Ducati admitted that if Stoner asked to wildcard in the opening race then they wouldn't refuse his request. This is something Rossi thinks could spell trouble for the rest of the field, should he change his mind.
"At Qatar both Ducati as he going strong," said the Italian. "It would be one of the best grands prix for him if he wanted to run a race."
Stoner won't join the rest of the MotoGP paddock in Philip Island in a fortnights time, but he will be with the Ducati team in Qatar for the final pre-season test of 2016, something which will surely fuel speculation further.
Photos via Movistar Yamaha