Valentino Rossi: It's a big change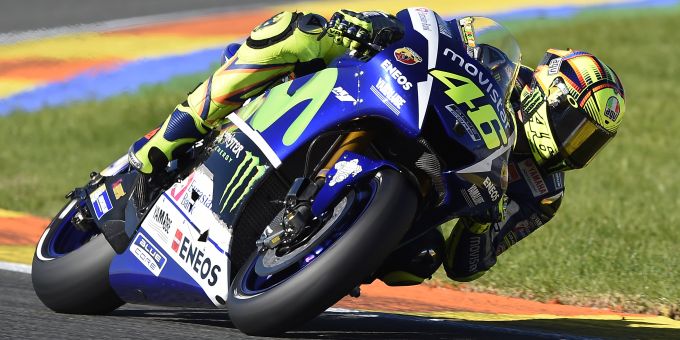 After the disappointment of Sunday, Valentino Rossi was back on track as he goes continues to hunt for the illusive tenth World Championship.
The Doctor was one of the last riders out to test, before managing to get through 57 laps during the first days testing. Rossi ended the day in a surprising twelfth position 0.850 seconds behind Marquez' fastest time of the day. Rossi's best time of a 1.32.401 was a second and a half slower than his best time of the weekend, a 1.30.988.
Rossi began the day by running his 2015 bike fitted with the new Michelin tyres, before moving over to the 2016 machine in the afternoon, again fitted with the Michelin tyres. The strategy was to gain some data from this years bike on the new tyres in order to gain a point of reference for the 2016 machine.
Rossi, who is one of very few riders on the grid to have ridden Michelin tyres in MotoGP already, said that the new tyres is a big change for next year. With ten crashes through the first day of testing Rossi was careful with the sensitive front tyre in order to not make it eleven.
"It's a big change and it will be interesting, especially the tyre will make a big difference for next year," said the nine-times World Champion.
"A lot changed, especially the setting, the weight distribution of the bike and everything. It looks like our competitors are a little ahead, because they've made more kilometres with the Michelin, but it's just the first day.
As well as new tyres, 2016 will see all MotoGP teams be made to run new spec ECU's made by Magneti Marelli. The standard electronics is a big change to all teams, with Rossi describing the new electronics as going back in time.
"I also tried the new electronics and also that, as I expected, was quite a big step because it's like going a little bit into the past. However, that too could be interesting and it's only the first day, we have a lot to work on.
"The rear tyre is very similar and Michelin is good, it has very good grip. The front is the big difference. We need to understand how much weight this tyre needs to turn at the maximum. We need some more time."
Testing continues at 10am local time tomorrow.
Photos via Movistar Yamaha