Stoner tests Ducati in Austria without winglets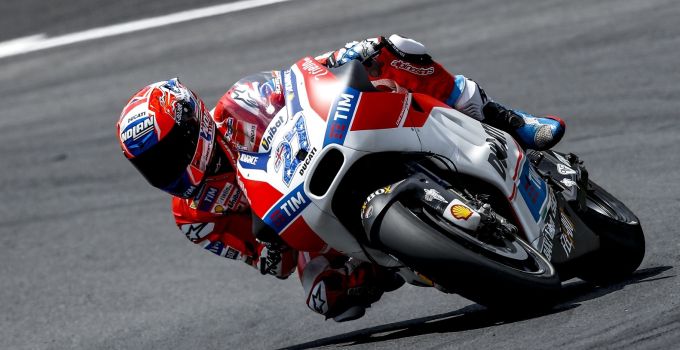 Ducati test rider Casey Stoner enjoyed a productive and successful day of scheduled testing in Austria, including testing the Desmosedici without winglets. 
The Australian joined the majority of the MotoGP field in testing action at the Red Bull Ring in Spielberg, Austria, where he is going through a testing programme organised with Ducati. One of the things on the agenda was to test the Ducati Desmo without the winglets. 
The Grand Prix Commission recently announced that all winglets will be banned from the start of the 2017 MotoGP season. Whilst all bikes now run the small aero pieces, Ducati have the biggest and were the first to add the winglets in a bid to issue more feel and grip to the front of their bikes. With Ducati needed to gather more data prepare for next season, Stoner was deployed to work towards 2017 today in Austria.
"Today we've been trying a lot of comparisons with the bikes, with wings, without wings, lots of things to get data and it's all been quite positive," said the two-time MotoGP World Champion. 
Stoner managed a best lap time of a 1:24.502 which was the fourth best time of the day behind Dovizioso, Iannone and Redding. Stoner confessed to not being a huge fan of of the circuit itself, the views and very smooth track certainly eased the lack of grip and "strange" corners. 
"You can't get a much more picturesque circuit than this, it's something very special. The circuit has some nice parts but it's a bit strange for bikes because some of the corners don't flow well together, which makes it somewhat difficult," he said.
"In general today has been quite good, the surface is fantastic and very smooth, the grip level seems somewhat medium but we'll put some more rubber down and get a little bit more feeling on the track. This test is a little easier than Misano, where it was very hot and I hadn't been on the bike for a long time, whereas today I didn't struggle and it was easier for me on the bike."
Very positive test today, not the most awesome track but it's not lacking a view! pic.twitter.com/9XNbq5NNWZ

— Casey Stoner (@Official_CS27) July 19, 2016
Photos via MotoGP.com & Ducati Corse