Pirro: It would not surprise me if Stoner is fast right away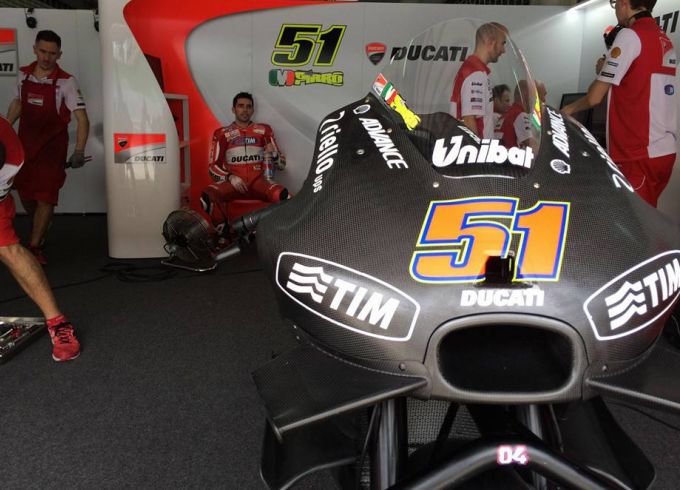 Ducati test rider has said that he wouldn't be surprised if fellow test rider Casey Stoner is extremely fast upon his return to Ducati.
Pirro, who completed a two-day test on the Ducati new GP16 earlier this week, will now pass the reigns over to the Australian for two days of his own testing, over the weekend. Stoner will get his test before immediately giving way to official factory duo Andrea Iannone and Andrea Dovizioso for the first official MotoGP pre-season test of 2016 starting Monday. 
The GP16 has been seen as Ducati's great hope for a number of years, ever since former Aprilia man Gigi Dall'Igna made the move to the Boro Panigale factory for the start of 2014. Dall'Igna was a large factor in bringing Stoner back to Ducati, albeit in just a testing role, with the Australian keen to work with the Italian.
 Despite leaving Ducati for Honda back in 2011, Ducati have always held Stoner in huge regard due to his achievements back in 2007 as he won Ducati's first MotoGP World Championship.
 "It's an honour to share the box with Casey," Pirro told Italian website GPone.com. "He's one of the most talented riders of recent years. I can only learn from him and the possibility of this makes me happy. To be able to watch him closely, it'll allow me to get even closer to the level of the factory riders.
 "I've already talked to him and he doesn't know what to expect from Ducati, but we will have different tasks. He will ride the GP15 to begin with, a bike we already know about and have a lot of data on. I will focus on the coordination of the GP16. I'll place a lot less emphasis on the lap times and focus on collecting the data," said the Italian.
Despite it only being testing, Pirro quashed thoughts that his competitive side could lead him to worry about if Stoner jumps back on the bike and starts' going faster than he currently is.
"It wouldn't surprise me [if Stoner is faster], he is a very strong rider even if he has stopped racing. The opposite wouldn't surprise me either," he said. "If he is immediately faster than me, then this would be helpful as it would allow me to improve myself. It's always good to have a strong rider by your side. He has won two World Championships, I haven't."
Despite good first impressions, Pirro was quick to downplay how much of a change the GP16 is to its predecessors, insisting that it is very much a case of evolution rather than revolution.
"We're pleased that the GP16 has already bought up good results, this is very important," he said. "But the GP16 is just an evolution of the GP15. It's not a completely new motorcycle, or something that's fundamentally different, like the GP15 was from the GP14.
"The changes aren't huge; the improvement is in the detail. They're crucial when riding with one hundred percent commitment, which under these conditions isn't possible here. The heat and high humidity of Sepang complicate the testing work."
The first official MotoGP test will get underway from 02:00 GMT on Monday morning.