Despite speed Stoner insists he won't return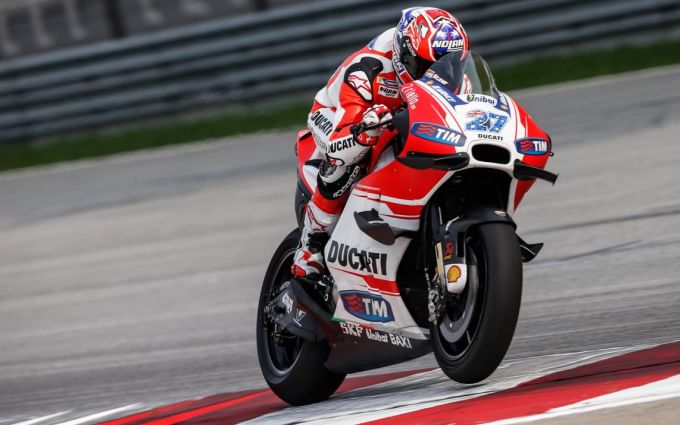 Ducati test rider Casey Stoner has categorically ruled out a full time return to MotoGP, insisting he has "no intention" to race again, in spite of taking part in today's second day of the first official test in Malaysia. 
The Australian joined Factory Ducati duo Andrea Iannone and Andrea Dovizoso, on track today after his first time back on the Desmosedici on Saturday morning.
Despite only riding the GP15 and not the new GP16, Stoner's pace was impressive on his first official timed day, as he found himself ninth fastest overall, just over a second off the fastest time of the day set by Pramac Ducati's Danilo Petrucci. 
Stoner's best lap time today, 2'01.103 was a second quicker than his best time from Saturday, and despite admitting that he is feeling more comfortable back on the MotoGP bike and adjusting well to the Michelin tyres, he says he isn't tempted remotely by a racing return.
"It was nice to be back on track at the same time as the other riders, more just for the fact that the track wasn't dirty and we had the same conditions as everyone else," said Stoner after the day's testing was completed.
"We're getting the same feedback as the other guys in the team, and this is important for us to move the bike forward."
After sharing the track with his former rivals for the first time since 2012 today, the former double World Champion was asked if he was tempted to race again.
"No," he replied. "I have no intention of doing that. It was nice to be back on track to get the data, but I'm still going to enjoy watching from the side of the track rather than being involved."
Ducati announced that Stoner would be in action once again on the final day of testing tomorrow, but he said he doesn't even know yet if it will once again be on the GP15 or if he will get a taste of the new GP16.
"There's no plan at the moment," he said. "We don't want to over-complicate things, and the [factory] riders want to do their testing with it first. 
"Maybe I'll get an opportunity to ride it in the future, but at the moment it's better to learn, to get accustomed with everything. Then, when we feel we can't do too much more with the GP15, maybe we will progress to the next version. But there's a lot of time between now and then."
"We don't want to push, make any mistakes, I don't think I even ran wide today," he explained.
"We just hit those same lap times to get some good data. This second day I feel a lot fitter than I did at the end of Day 1, and with a little more understanding of the bike. This is what we're aiming towards – we don't want to get ahead of ourselves."
Photos via MotoGP.com