Kallio to wildcard KTM MotoGP bike in Valencia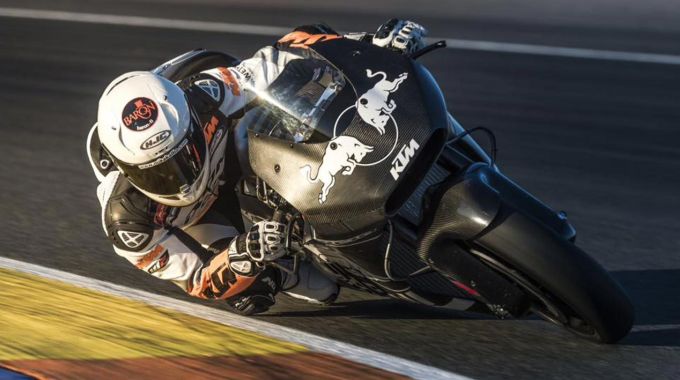 Mika Kallio will give the KTM RC16 its first competitive outing during the 2016 season finale in Valencia.
The Finnish rider has been testing the KTM in a full-time role all season since parting ways with the Marc VDS Moto2 team at the end of the 2015, and now KTM Motorsport Director Pit Beirer has revealed that the former MotoGP rider will be giving the KTM its debut in Valencia.
When asked if Kallio would be wildcard, Beirer confirmed to German website Speedweek.com: "Yes, for sure."
KTM have kept their cards very close to their chest whilst testing their new bike. Unlike Aprilia who elected to test their machine at circuits and competitively, KTM have chosen private tests with a stable of riders, some with MotoGP experience and others without. The MotoGP field will be getting their first gauge of the speed of the KTM over the next two-days at the Red Bull Ring in Austria.
The KTM testers at the Red Bull Ring will be Kallio and Moto2 front runner Tom Lüthi. The former 125cc World Champion has been overlooked for a MotoGP rider once again, with the KTM team electing to sign Yamaha Tech3 duo Bradley Smith and Pol Espargaro for next season. In spite of being overlooked, Bierer has been extremely impressed with the Swiss rider.
"Mika Kallio delivered in Jerez for the second test this year with really good times. We are extremely satisfied with them, and he is constantly the fastest of our test drivers," he explained.
"What else has been very positive is Tom Lüthi. He did an extremely good job in his first test at Mugello. He's definitely got very close to the times of Mika. Considering how little time Tom has been spent on the KTM MotoGP bike, I have to say, he has done a great job."
Pol Espargaro is enjoying the best season of his career to date, Smith on the other hand his worse. Bierer is adamant in admitting he is still excited for his future with Smith, but did reveal he didn't want to confirm the Brit's move so early, but reps from Smith's side did.
"There was a mistake that I have warned everyone about: It was wrong announce he was leaving Tech3 before the first race in Qatar in March. This was certainly not smart," he said.
"It's human nature, that the people on the team lose motivation when the rider decides early on he's leaving. The early announcement was not my wish, but Bradley's team manager, his manager and he himself urged us to publish the news."
Photos via KTM Racing