Red Bull Ajo KTM to sign Bastianini for 2017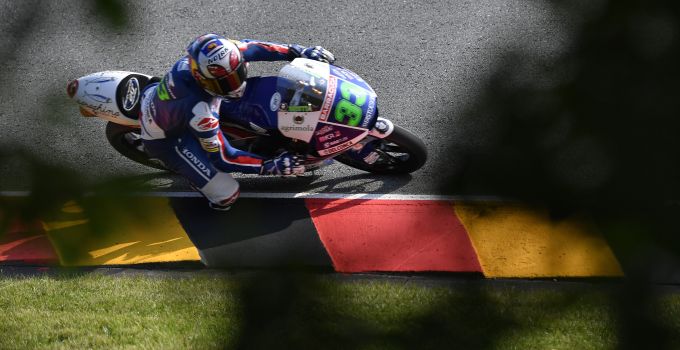 The Red Bull Ajo KTM team will sign Italian rider Enea Bastianini to replace the outgoing Brad Binder as their lead rider for the 2017 Moto3 World Championship. 
Moto3 World Championship leader Brad Binder will ascend into the Ajo Moto2 team next season, replacing the Tech3 bound Johann Zarco. Binder will join a long list of Red Bull Ajo graduates who have finished in the top two of the World Championship, following in the footsteps of Marc Marquez, Jack Miller, Sandro Cortese, Miguel Oliveria and of course Luis Salom. 
German website Speedweek.com are now reporting that the man Aki Ajo has chosen to replace Binder is Gresini Honda's Enea Bastianini. 
The 18-year-old has suffered a difficult first half to his 2016 season. The Italian was expected to mount a serious challenge to the title this season after third in last seasons Moto3 World Championship behind Danny Kent and Miguel Oliveria, both of whom ascended into Moto2. However injuries and a lack of form have prevented Bastianini from seriously challenging Binder, with the Italian claiming only two podiums so far this season.
Ajo wouldn't confirm a deal at the Sachsenring this past weekend, but Fasto Gresini did all but confirm the deal, revealing Bastianini has accepted a deal which will pay the Italian €240,000. 
Last season Bastianini was trying to angle his way out of the Gresini team to join the Estrella Galicia 0,0 team for 2016. Gresini had Bastianini on a two-year deal and refused to release him, whilst Alzamora refused to pay the release clause in his contract. With the Italian's deal now expired, he is free to negotiate with whomever he choses.
The Italian already has experience with the KTM after his Gresini team ran the Austrian bike back in 2014, whilst he is also individually sponsored by Red Bull, leaving no sponsorship issues for either party to tie up before a deal can be signed. 
Speedweek go on to say that Aki Ajo and Red Bull also wanted to sign Bastianini's team-mate for next season, Fabio Di Giannantonio. The Italian rookie was a part of the Red Bull Rookies series last season, but he has a two-year deal with Gresini, meaning Red Bull Rookies Champion Bo Bendsneyder is in pole position to retain the seat alongside Bastianini for 2017.
Photos via Gresini Racing