Rossi would be a fan of radio in MotoGP; Marquez against it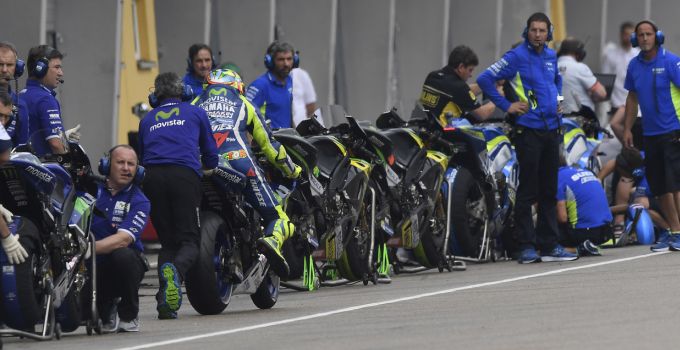 Nine-times World Champion Valentino Rossi has advocated the use of radios in MotoGP after his tactical error in the Sachsenring this past weekend. 
Rossi saw his chances of victory go up in smoke after he elected to stay out on a drying track on wet tyres, whilst Marquez came in for slicks. Rossi's crew were calling for The Doctor to come into the pits and switch bikes for laps with signals on the pit board, something Rossi just missed in the heat of the battle for the lead of the race. 
Whilst some argue that MotoGP could suffer the same fate as Formula One and get teams playing too tactically rather than leaving it up to the riders to fight it out. 
Rossi isn't worried about that, noting that despite failed tests in the past, technology has progressed to a point where it wouldn't be an issue for MotoGP today.
"It would make everything easier, they'd have more information that they can't provide with the pit board," Rossi told Italian website GPone.com.
"Perhaps even at Assen, if they'd told me what was happening behind me, I could have avoided making that mistake. The system would be an important one for me, I remember we tested it maybe ten years ago, but then nothing more was done."
Another rider who was caught out yesterday by a tactical mistake was Andrea Dovizioso. Dovizioso was leading Rossi when the duo bade their pitstops and managed to salved a podium from the race, but he thinks that radios could improve safety.
"On the one hand a radio communications system would make it easier to manage certain situations and maybe it would also improve safety," he said.
"But this isn't Formula One and, in the end, I think we're better off without it."
One rider who is very much against radios is that of German race winner and series leader Marc Marquez. The Spaniard timed his bike change to perfect and ultimately ended up winning the race by 20 seconds. Marquez has suffered and also prospered from a lack of radio communications in his time in MotoGP.
He was black flagged from the 2013 Australian Grand Prix after failing to pit during the compulsory pit window whilst chasing his first MotoGP title, but then has had success in flag-to-flag races in Misano last year and Germany this past weekend. 
"I say no. I can't see myself talking to my mechanics while I'm leaning over, these aren't cars," said Marquez.
"Also, if you make a good plan before the race starts, you can deal with any situation.I learned from what happened in Australia in 2013, and now we have many meetings before a race."
Photos via Movistar Yamaha