Viñales crashes, then tops first day at the Sachsenring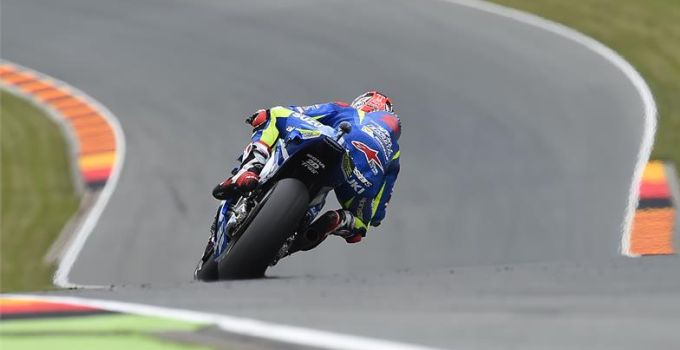 Maverick Viñales shook off a fast crash to top the timing sheets in the first day of free practice at the Sachsenring. 
The 21-year-old ended the day 0.220 seconds ahead of second placed Andrea Iannone and over 0.6 seconds ahead of third placed Marc Marquez. Despite setting the fastest time of the day, it wasn't all plain sailing for Viñales, with the him suffering the same fate as the man he will replace at Yamaha, Jorge Lorenzo, by losing the front end of their motorcycle at the fast turn eleven. 
Not deterred by the crash, Viñales quickly returned to the pit to get on his second bike, where he strung a quick set of laps, including his the fastest lap of the day. 
"Honestly I can't explain the crash, I just lost the front without any evidence of the cause," explained Viñales.
"Corner 11 here is always very tricky, I need to check the data to verify if maybe I was a little wider than normal, or there was something else different from the previous lap; but it may also be a matter of temperature: In corner 1 and 3 – the other right-handers – I was ok, but then corner 11 is very far away and it's very hard to keep the right-shoulder of the tyre at the proper temperature."
Despite the confusion over the crash, Viñales was very happy with his first days work, as you would expect heading the time sheets going into Saturday.
"Anyway, the start has been good, the position is positive; but we still have some work to do. This track is very tight so we started from a set-up that guaranteed good agility, but now we have to find a good balance having a little more stability in some parts. It's not 'gonna be easy because as always, when you improve in one direction, you lose something in the other."
Photos via Suzuki-Racing