Rossi says he can't fix Lorenzo and Marquez "boos"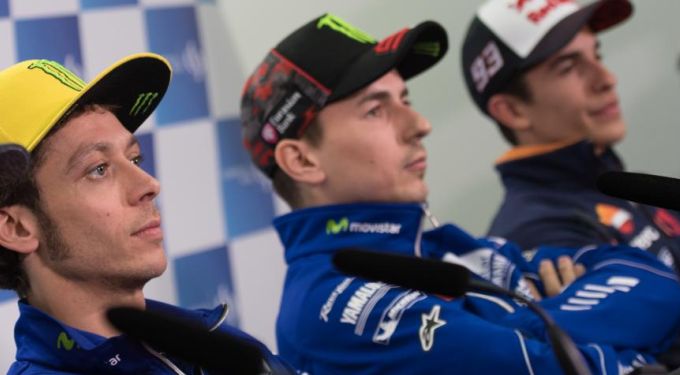 Valentino Rossi responded to criticism, claiming that cannot fix his fans booing his competitors. 
Both Jorge Lorenzo and Marc Marquez were booed in Parc Ferme and on the podium, after the opening round of the 2016 MotoGP season in Qatar two weeks ago. This prompted a celebration from Lorenzo to zip his mouth closed on his bike and once again on the podium.
The fans booing the Spaniards are showing their unhappiness at the way in which they perceived the actions of both Lorenzo and Marquez at the end of the 2015, a season which saw Lorenzo pip Rossi to the World Championship by just five points. 
Many have called on Rossi to ask his supporters to respect the others riders, Rossi however has insisted that he isn't responsible for the actions of his fans trackside.
"I don't think that in Qatar there were so many Italian fans," said the Doctor.
"However, I did not create this situation, and I don't see how I could fix it."
The boos riders can deal with, however both Lorenzo and Marquez have received death threats, prompting the duo to both be concerned for their safety whist in South America. 
The World Champion used the opportunity in the press conference to admit that he was still confused by the boos and abuse he receives. Lorenzo insisted that both he and Marquez rode to the best of their ability in the closing months of 2015.
"I don't think we did anything wrong in the last months [of 2015]," explained the 28-year-old.
"We just concentrated on going very fast. I won the championship and Marc did the best job he could in 2015. We're just trying to be the best on track and we're risking our lives in the process.
"I don't know what we did wrong," he said.
Whilst Lorenzo is used to being the target of Rossi's fans abuse since joining MotoGP in 2008, it is still a fairly new phenomenon for Marquez. Despite still adjusting to the fact he will now receive abuse almost weekly, Marquez did admit that he goes to circuit's now prepared for what's ahead. 
"Of course I don't like it in MotoGP [the boos] especially when it's targeted at me," said Marquez.
"But I'm not stupid and I know it's something that will become usual. We must adapt and for me it doesn't matter the colours of the fans, I think as long as everybody enjoyed the race, that's what is most important for me." 
Both Lorenzo and Marquez had received death threats from South American fans ahead of this weekend's race, causing the duo to feel threatened for their safety. 
Photos via Movistar Yamaha