Marquez wants to put Rossi feud behind him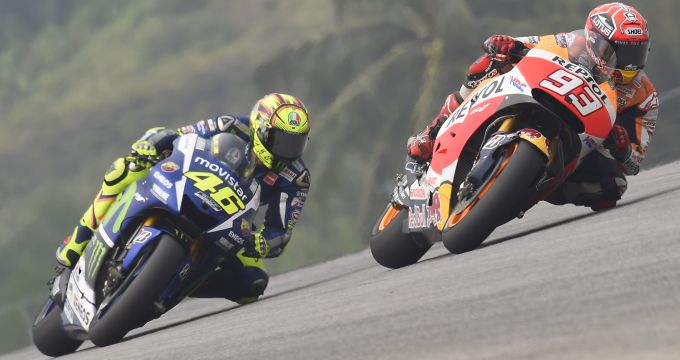 Marc Marquez has said that he hoped the feud between himself and Valentino Rossi can be ended for the long term betterment of the sport. 
Marquez' relationship deteriorated to the point where Valentino Rossi is thought to have removed Marquez' merchandise from his VR46 company. The start of the fall out happened in Malaysia, when in the press conference Rossi accused Marquez of deliberately trying to hinder his title charge, as retribution for crashes between the two. 
"The relationship with Valentino was really good until Thursday (before) Malaysia," the former World Champion told CNN. "I think there he created so much more of what was not natural, not good for motorcycling. The problem is that too many people start to speak about the situation." 
The relationship worsened after the final race of the season in Valencia. Lorenzo won the race in Valencia and in doing so snatched the World Championship from the hands of Rossi. Rossi claimed that Marquez had simply followed Lorenzo across the line and attempted to – and succeeded in – protect Lorenzo so he would win the World Championship, something Marquez still strongly denies.
"(When we arrived) in Valencia, I said: 'Please we need to win the race because if not… he will complain,'" explaining his thought process before the season finale.
"Lorenzo did the fastest lap, the record of the circuit, the record of the total laps… I could not pass him, I could not win, but you know for me, the target was to win the race and that was the best way to finish the season," said Marquez.
So what about the future? Is this relationship one that has soured so much that there is no going back? Marquez hopes not. He said he has already offered his hand to Rossi in a bid to build bridges, saying he wants what's best for the sport, ultimately. 
"I already said in Valencia to Valentino, 'My hand is here,' and I want the best for motorcycling, and I think the best thing is to be in a good relationship with him," he said.
"At that moment (in Valencia) he had just lost the championship, and he was really worn. I understand the situation, so I don't want to think a lot about what he said, but I hope that 2016 will be a new season, a new relationship and (we) try to forget all these things. When he wins, we can discuss and we can speak."
Photos via Movistar Yamaha