Bastianini: I think that we can recover the gap from Kent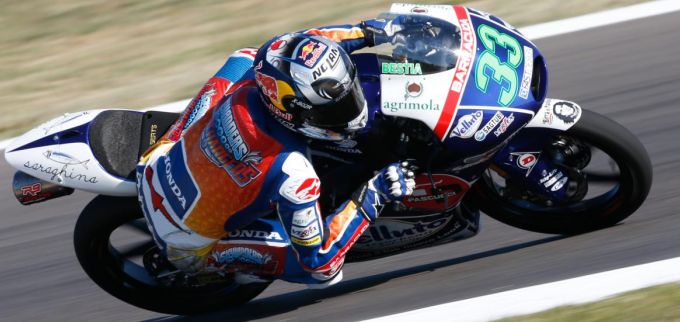 Misano Moto3 winner Enea Bastianini believes he can close the gap to Danny Kent, and still challenge the Brit for this seasons Moto3 World Championship.
Fresh off the back of his first win of his career, the Gresini Honda rider managed to take 15 points out of the championship leader, who struggled – by his own sensationally high standards – all weekend, despite momentarily salvaging his weekend on Saturday afternoon. The gap between the two now stands at 55 points, the equivalent to just over two race wins, with just five rounds of this seasons World Championship remaining. 
The competitive nature of the Moto3 class means that it's not totally out of question that the 17-year-old could catch Kent, with any number of ten riders able to take points away from the Brit. But it would require Bastianini to win again this season.
Whilst thinking ahead and not ruling out the chance of catching Kent, "The Beast" is more focused on enjoying his first ever win in Moto3. 
"It was the greatest thrill of my life! After having missed the win so many times, to get it here in Misano, in front of all these fans, it's a great feeling, that makes me feel satisfied," he said.
"I dedicate this success to my family and my team. It's an amazing emotion, and right now I still have to realize well what happened… We are going to celebrate, but not too much because tomorrow we have a day of testing and we want to continue to work hard to try to catch Kent in the championship.
"This victory probably will make me even more confident: there are still five races and I think that we can recover the gap from Kent. We will fight till the end."
Even if the Italian manages to catch and overtake Kent in the World Championship, the former Red Bull Rookies rider has said he wouldn't wouldn't follow Kent into the Moto2 World Championship, meaning we could get our first Moto3 defending World Champion. 
"No, I'm not thinking about the Moto2, in 2016 I will do Moto3 again," he told Gazetta dello Sport. 
There had been rumours that the Marc VDS team had approached him regarding Tito Rabat's ride. However, Franco Morbidelli will be replacing the outgoing World Champion, with Bastinanini only concerned with Moto3. 
"I'm not thinking about it, (Moto2) Fausto believes in me."
Photo via MotoGP.com