Alzamora v Gresini: The battle of Bastianini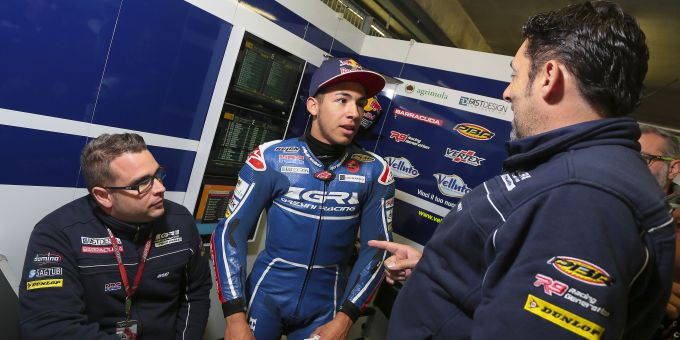 Enea Bastianini is currently the subject of an intense battle between Emilo Alzamora and his Estrella Galicia 0,0 team and Fasto Gresini, regarding his 2016 future.
Bastianini, who looks set to finish runner up to Danny Kent in this season's Moto3 World Championship will go into next season as one of the, if not the favourite for glory in 2o16. With Alzamora's main rider in Fabio Quartararo leaving the Estrella Galicia 0,0 team to replace Kent on a KTM with the Leopard team for next season, Solomoto say that Alzamora wants to recruit the "Beast". 
Fasto Gresini however, is standing in the way of any move for the young Italian. Gresini has presented a contract to IRTA – International Racing Teams Association – showing that Bastianini has signed up to his team for two season's, 2015 and 2016. Seem's pretty clear right?
Well, within Bastianini's contract for 2016 with Gresini, there is a release clause, if you will, of 300,000€ which will be paid to Gresini if somebody wishes to terminate his contract, and release him. Gresini are fighting this clause, insisting it can only be triggered if he was to change equipment (i.e an early move to Moto2) rather than switch teams on the same bikes.
It is not clear whether Bastianini would even want to leave the Gresini team, but it is rare that somebody of Alzamora's reputation would push so hard for a rider if there wasn't a level of desire from both sides to get a deal done. On top of that, there was a secret meeting held between Alzamora, HRC Vice-President Shuhei Nakamoto and the representatives of Bastianini behind the HRC truck in Aragon. 
Fasto Gresini will be hoping that his willingness to switch from KTM to Honda equipment last year, with HRC wanting to run Bastianini helps keep him in the Italian's side. Although the Estrella Galicia 0,0 set up, is the closest thing to a factory Honda Moto3 team there is.
Both parties will want a definitive answer either way before the season comes to a close, and last season's contract dispute between Marc VDS and Jack Miller demonstrated that the power of riders wishes, combined with the financial power of HRC can be hard to stop.
Photo via Gresini Racing