Gresini considering breaking KTM Moto3 contract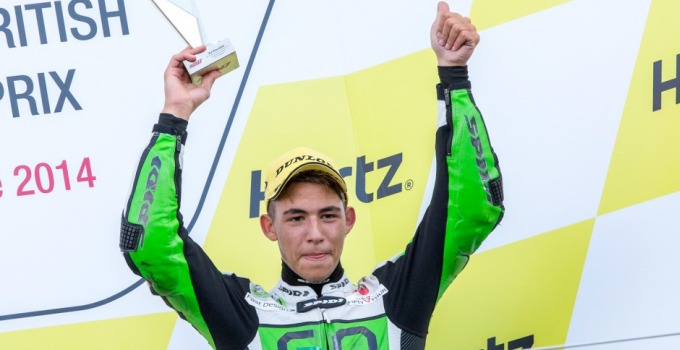 Fausto Gresini is considering breaking the contract he signed with KTM to run their Moto3 machines next season, and may take Honda up on their offer.
Gresini signed a deal with KTM for Moto3 bikes for 2015 on August 31st in Silverstone, alongside the VR46-Sky team, but two weeks later he is now facing a decision of if he should break his contract and sign with Honda. "I'm going to lose my face to KTM," Gresini told speedweek.com in Misano this past weekend.
This whole situation has come about with Honda wanting more top riders in Moto3. With current stars Alex Rins and Alex Marquez moving up to MotoGP with the Pons and Marc VDS teams respectively Honda are now searching for another team to run more riders from. Next season's Estrella Galicia 0,0 team will be made up by two rookies, extremely talented rookies, but rookies to Grand Prix racing none the less, in the shape of Fabio Quartararo and either Maria Herrera or Jorge Navarro. With the premier team fielding two rookies Honda are targeting an existing rider, and team, to also run the top Honda's next season, and the duo they have shortlisted are Romano Fenati and Enea Bastianini.
Honda have approached both teams and said they would like their teams, and more specifically their riders on Honda's next season, in spite of already signing deals to run KTM for 2015. 
Romano Fenati has already signed a deal for 2015 with the VR46-Sky team, but so far Valentino Rossi and his team are remaining loyal to KTM, and insisting they no have interest in switching from KTM to Honda. 
As for Bastianini, he is yet to sign a contract agreement with Gresini as of yet, and although a new contract with Gresini is expected, should a switch from KTM to Honda happen, it is thought Bastianini would be happier signing a new deal, as the 16-year-old wants to be on what is currently seen as the best bike. 
"Gresini was busy playing at the Misano Grand Prix, even though he has signed a contract with us," head of KTM's racing department Pit Beirer told speedweek.
He went on to say that he needs a decision from Gresini sooner rather than later, as he needs a contingency plan should the Gresini deal fall through. He said that the factory has the capacity to build and run twelve bikes, but needs to know what Gresini will do, to see if other teams such as Calvo can stay, or if they have to go.
Beirer continued by saying that he remains confident that the VR46 team will stay with KTM for next season, by saying they were at a recent test in Almeria, of 2015 equipment along with Ajo who have also renewed their contract for 2015, even if it is a slightly smaller scale than the current six man operation they're currently running. 
It is thought that the Kiefer racing team had initially requested a KTM package for next season, but they were turned down in Silverstone, meaning that newly recruited riders Danny Kent and his expected teammate Luca Gruenwald will be on a Honda package next season. 
Beirer didn't say if Gresini would have to pay a fee to get himself out of the 2015, and if he does, what the charge would be. But it would appear Honda would be willing to cover any cost it would take if it would include getting the 16-year-old Italian starlet Bastianini on a Honda.