Domenicali: Lorenzo will make us even more competitive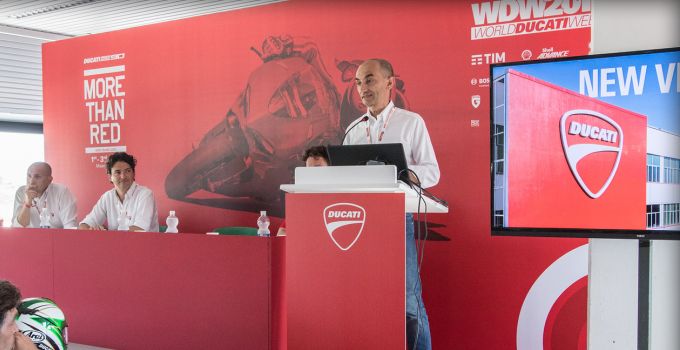 Ducati CEO, Claudio Domenicali has said that reigning World Champion Jorge Lorenzo will make the Italian company even more competitive when he joins next season.
The Spaniard will leave Yamaha after nine seasons at the end of the 2016 season in favour of a switch to Ducati, where he will join forces with his former team manager Gigi Dall'Igna. Since Dall'Igna joined Ducati, the Bologna brand have taken considerable steps forward, however haven't been able to convert to claim their first win since 2010.
Domenicali is now hoping that with Lorenzo on board, Ducati can now take the next step forward and claim that illusive victory.
"What do I expect from Jorge? That he brings his talent and experience to allow us to take another step forward. As I've said, we've come very close to a win in many races, we just need a little more," Domenicali explained to Italian website GPone during World Ducati Week at Misano.
"Lorenzo will help Gigi to develop the bike and improve those small details that are not quite 100% yet. Then he'll play his part and this will undoubtedly make us more competitive."
Even with Lorenzo coming in next season, Domenicali insists that Ducati aren't resting on their laurels or standing still, admitting they're pushing as hard as ever to convert the opportunities they've presented themselves with.
"We are investing more than ever in the racing world, from both a technological and sporting point of view, even though luck has not been on our side," he said.
"Having not yet managed to win leaves us somewhat disappointed, not so much because we've unable to achieve it, but because we've come so close on many occasions. We have the potential, but we've wasted opportunities and that is regretful."
The last man to win for Ducati was their latest test rider Casey Stoner. The Australian won 23 races and one World Championship over four seasons with the Italian team, however nobody has been able to replicate his success since. Despite now testing the Desmosedici, Domenicali has once again dampened speculation that Stoner could be set to come out of retirement and wildcard in a race this season. 
"It's not that simple, Casey is very strong but he's no longer actively racing. He'd have to line up against those who are used to racing every two weekend and the MotoGP champions are no less talented than him. Stoner wants to be a test rider and is helping us, also over the last days.
"We've sat down with him, we've talked at length, but not about a wildcard," explained Domenicali. 
Photos via Ducati Corse and Movistar Yamaha