Ducati play down Stoner wildcard rumours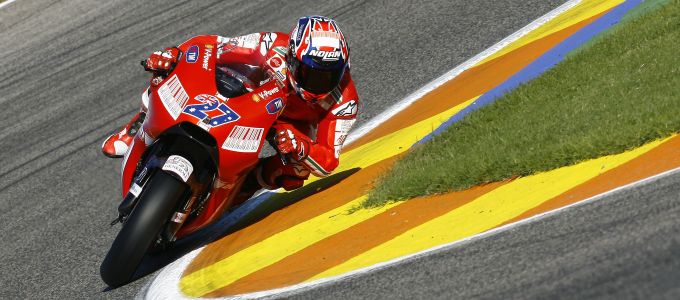 Ducati's CEO Claudio Domenicali has said that wildcards aren't in the plans for Casey Stoner or Ducati in 2016. 
Ever since it was confirmed that Casey Stoner was returning to Ducati in a test riding capacity, rumours have been regular and intense that the Australian would be wildcarding in a race next season, with Phillip Island the most likely destination. 
These rumours were further enhanced when reigning World Champion Jorge Lorenzo said last week that he thinks Stoner would still be competitive, whilst suggesting the Australian would wildcard. The 30-year old was in Italy this past week to look at his new bike, as well as going out for a meal with Ducati bosses including Domenicali. 
Stoner is expected to get his first taste of the Ducati GP16 at the very end of January, with Domenicali reiterating that Stoner has returned as a test rider.
"There were some hard times, as in any family, but we have not forgotten what has been for Ducati," the Italian told Gazetta Della Sport.
"Casey has a lot of experience, he has matured a lot. He seems interested, focused, dedicated. He wants to apply his knowledge to ensure that the two Andreas have the best bike possible.
"Things are clear between us for now – [wildcards] are not in our plans or his."
As well as attempting to quash the Stoner speculation, Domenicali also set his targets out for 2016, saying he is expecting Ducati to win "at least" two races. 
2015 was Ducati's best season since Stoner last claimed victory for the Boro Panigale factory back in 2010, with nine podiums, with factory riders Andrea Iannone and Andrea Dovizioso claiming eight, the other of course going to Pramac satellite rider Danilo Petrucci at Silverstone.
Despite losing some of the Open Class benefits for next season, Domenicali is expecting his riders to continue improving in 2016.
"We must win at least two [races]," he said.
"We got very close [this year], with some very good races, but the competition is very strong.
"The championship is the highest level, but the objectives will not change: we must improve."
Photos via Ducati Corse