Marquez hoping to build MotoGP Championship lead in Germany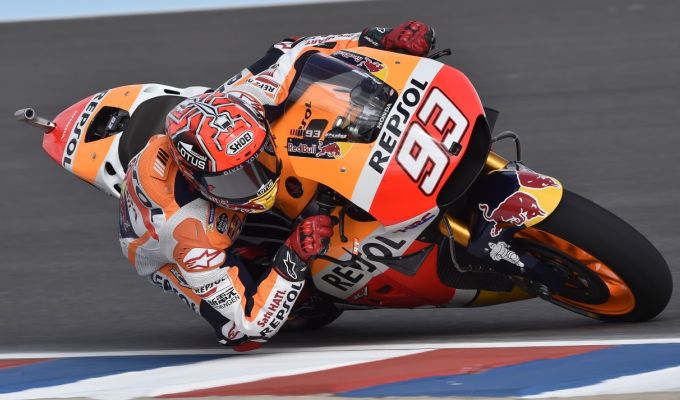 Marc Marquez will look to continue his perfect record at the Sachsenring, building on his 24 point World Championship lead.
This weekend will see Michelin bring their asymmetric front to a Grand Prix for the first time since returning to MotoGP, due to the 10 left hand corners at the German circuit. 
In his three years in MotoGP, Marquez is yet to be beaten in Germany, and despite seeing his World Championship lead grow from 10 to 24 points last time out in Assen, the Spaniard knows he needs to keep his feet grounded, continuing with the "one race at a time" mantra he has employed for 2016.
"We're going to the German GP aiming for a podium position and of course possibly to fight for the win," said the two-time MotoGP World Champion.
"The Sachsenring is normally a very good track for me that I like very much, maybe because it has so many left-hand corners, a bit like a dirt track."
Marquez rode a mature and sensible race in the wet conditions at Assen just over two weeks ago, whilst his main championship rivals, Jorge Lorenzo and Valentino Rossi, failed to score substantial points, due to a lack of confidence and a crash respectively. With early forecasts suggesting there may be another wet race this weekend, Marquez knows he has to keep calm call upon prior experiences in Germany. 
"On the other hand, it's another one on the calendar where the weather has sometimes played a crucial role in the past, so we'll see how it goes there, he said. "We've learned from the past and we're approaching this season race by race, trying to be ready and make the most of what we have and what the situation requires.
"In any case I'm happy we'll be back in action shortly and I'll do my best to get another positive result before the summer break."
Photos via Repsol Honda