Stoner: Wildcard? We will talk after my next test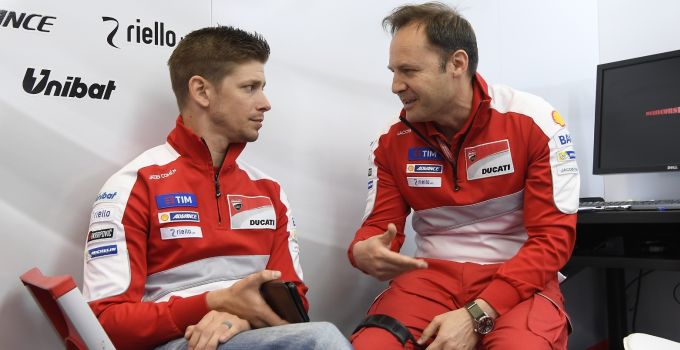 Casey Stoner has refused to rule out the prospect of appearing as a wildcard this season, saying he will discuss the future with Ducati after his next test in Austria.
The former double-World Champion completed a two-day private test at the Misano circuit, and has stayed in Italy to take part in the World Ducati Week festivities also being held at Misano. Stoner described the test as successful with the team getting through 95% of their planned work, however no lap times were released. 
Ever since Stoner's return to Ducati was announced, speculation has been rife that the Australian would be in line to once again line up on a MotoGP grid. This was further fuelled when Stoner lapped as the fastest Ducati during the first MotoGP pre-season test in Sepang back in February. Whilst all rumours have been batted away, Stoner refused to dismiss that he may still appear in a race this season.
"It's not in my plans right now, we only have the test in Austria scheduled for August. After that, we'll discuss the future and further tests," the 30-year-old told Italian website GPone, during the second day of World Ducati Week.
The test in Austria that Stoner is referring to will be at the newly added Red Bull Ring where he will join Pirro and factory riders Andrea Dovizioso and Andrea Iannone in a bid to gather data ahead of the race later in August. 
Should Stoner appear in a race this season, it would probably be one of the final three races of the season. Stoner won six consecutive races at his home race in Phillip Island which is the third from final race of the season. Another option would be the Malaysian Grand Prix where Stoner has already lapped on this seasons Ducati, proving his speed and the final race is in Valencia, where Stoner will be ahead of testing duties following the race.
Whether Stoner's return remains a pipe dream or comes to fruition we will find out in due course, in the mean time he will continue to test with Ducati in a bid to improve the Desmosedici as they search for their first win since Stoner himself left in 2010. 
Photos via Ducati Corse