Stoner completed Ducati test in Misano; WDW next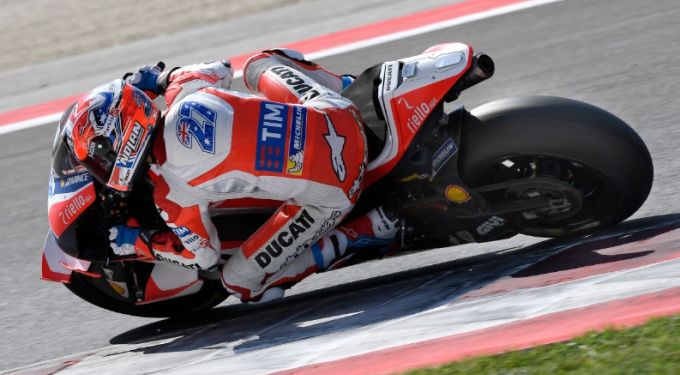 Casey Stoner completed his two-day test on the Adriatic Coast at Misano, where he will now stay as he takes part in World Ducati Week.
Stoner, who was back in action on European circuits for the first time in four years, took part in a private test for Ducati alongside full-time test rider Michele Pirro. No details were leaked about the lap-times which Stoner could put in.
Testing the GP16 (winglets equipped) Stoner's main task will've undoubtedly been to test all the compounds of tyres and gain more valuable data as Ducati continue to search for their first win since Stoner himself took victory at Phillip Island in 2010.
The Australian said that the test was a huge success with the team getting through "95%" of the test plan being completed over the two days.
"We've had a very positive test, this being my first time on a European track since 2012 and my first time in Misano since 2011. It's been a long time and it's really nice to ride these European-style tracks again and get a feel for what a bike is for basically 70 or 80 percent of the season," said the two-time MotoGP World Champion.
"Everything we have done has been very positive; we got 95% of our test done over these two days so it's been very good. We got some direction with Michelin and were able to get a bit of direction between the chassis' and the electronics etc. I'm really looking forward to seeing what comes from this for the next stages and also what the factory riders really think of the steps we've been able to make."
Stoner will now join all the full-time Ducati riders taking part of the festivities of World Ducati Week in Misano. The event which attracts Ducati fans from around the world to Misano will see Stoner riding and interacting with fans.
"The next few days are going to be really interesting. I haven't been to World Ducati Week for a long time," he said.
"It's hard to remember what it was like back then, but now I'm looking forward to the whole weekend and seeing so many fans, everyone who turns up, the amount of bikes. The 90th anniversary of Ducati is such a big celebration and I'm looking forward to being a part of it."
Photos via Ducati Corse