Binder: Next year I will move into Moto2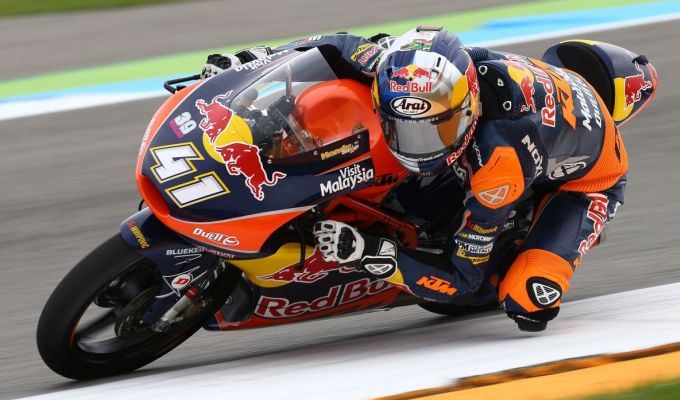 Moto3 World Championship leader Brad Binder has confirmed that this will be his last season in the Moto3 class, ascending into the intermediate class of Grand Prix racing in 2o17.
The South African currently holds a commanding 48-point lead over the injured Jorge Navarro, whilst Romano Fenati is a further 10 points back on the Spaniard in third place. Binder's twelfth place finish in Assen last weekend was the first time in 2016 that he has failed to finish on the podium. 
With the dominance shown by Binder thus far, speculation in the paddock that this would be his final season in Moto3 was confirmed by Binder himself to German website Speedweek in Assen last weekend. 
"I will definitely ascend into the Moto2 next year, but I have no idea where I will go. But I hope we'll know soon," said Binder who turns 21 next month. 
Logic would suggest that Binder will find himself still employed by Aki Ajo next season, replacing Johann Zarco in the Ajo Moto2 team. The Frenchman will join the Yamaha Tech3 team next season, in a deal which may get confirmed in Germany. With the Ajo Moto2 seat currently vacant for next season, Binder seems like the safest option. 
However, despite the seeming logic in the move, Binder insists that no deal has yet been struck to move to the Ajo Moto2 team. Aki Ajo has fielding multiple riders in Moto3 who now have Moto2 experience under their belts such as Sandro Cortese and Miguel Oliveira, who may be tempted to reunite with their former team manager.
When asked if he thinks he has a chance of replacing Zarco, Binder said: "I suspect that this could happen, but you'd have to talk to the boss." 
With the majority of MotoGP seats now getting confirmed for 2017, the smaller class seats will fill up quickly with riders and teams moving quickly to replace their outgoing riders. 
Photos via Ajo Motorsports