Romano Fenati testing different Moto2 chassis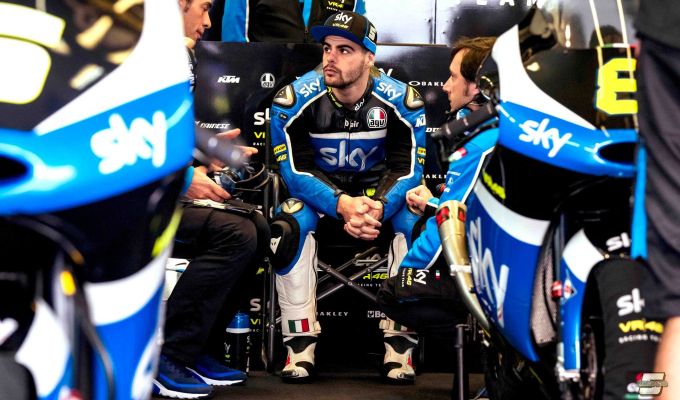 Moto3 front-runner Romano Fenati has confirmed he has a day booked with Kalex, after recently completing a private test with Speed-Up as the Italian prepares himself to move up to Moto2 with the VR46 team.
The Italian has had some strong results although endured a largely frustrating season in Moto3 where he is currently sat third in the World Championship, albeit 67 points behind World Championship leader Brad Binder. 
Despite looking like it will be another season with no Moto3 title, the 20-year-old already has a contract in his pocket for 2017 where he will represent the VR46 team in the Moto2 class. Fenati confirmed that the contract was still in tact and he isn't going to be pushed aside by Rossi, despite paddock rumours.
"I think the split is only in the media," Fenati told Italian website GPone.com.
"At the moment there is an excellent relationship that binds me to VR46, plus next year there will be the Moto2 project. On my part, and I believe on their part as well, there is only the desire to continue on the same path."
With the VR46 team moving into Moto2, they need to decide what chassis they will use next season. Whilst the Kalex is the chassis of preference for most teams, Fenati has tested the SpeedUp in Misano to ensure that he takes the chassis that gives him the best feel for 2017.
"The SpeedUp is a completely different bike, specifically in terms of the riding setup. I will have to try to improve it as soon as possible when we begin the tests," he said.
"It was a three-hour test that paid back all the efforts made over these years. I have a day scheduled with the Kalex in order to understand the differences between the two bikes. It will probably be next month, before the break, but I still do not know specifically.
"MotoGP is my dream and racing in Moto2 means taking another important step toward the top class."
Fenati has spent five-years in the junior class of the World Championship, but feels he is now ready to make the leap into Moto2. Fenati said he will take inspiration and hope from what the likes of Alex Rins have done moving up from Moto3 to Moto2.
"Nothing scares me. It seems strange, but that's the way it is. I'll need to work hard in the tests so I can be ready straight away. I am well aware that there will be a lot to do," said Fenati.
"There will be a lot of riders from Moto3 that I can take suggestions from, like Rins, for example. In these two years Alex has shown big steps forward, enough to always be close to the top."
Photos via Romano Fenati Facebook