Valentino Rossi postpones Moto2 plans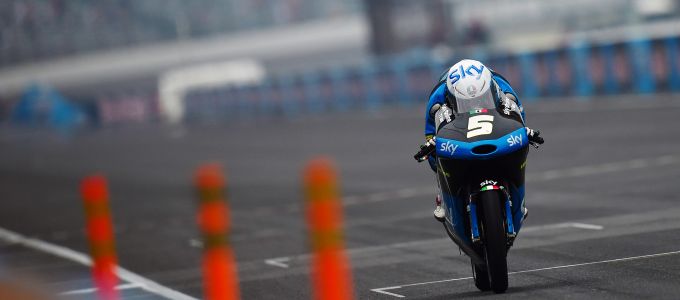 Valentino Rossi has postponed plans on expanding his VR46-Sky Moto3 team into Moto2, instead focusing on continuing in the Moto3 class for 2016. 
Speculation that Rossi and his VR46 team could move up to Moto2 have been around the paddock for the last 18 months, but it has intensified over the last few weeks, with Romano Fenati and to a lesser extent Andrea Migno ready to move into the intermediate class of Grand Prix racing.  
Fenati won four races last season, but couldn't mount a serious title challenge to Alex Marquez, and it has been another frustrating season for the Italian, plagued by inconsistency in qualifying, Fenati hasn't been able to seriously challenge Danny Kent. Despite being still only 19 years-old, Fenati is currently in his fourth season of Moto3, so an imminent move into Moto2 is seen as the natural move for him.
Despite Fenati's apparent readiness and willingness to move up, his mentor and team manager have no intentions of expanding just yet.
 "VR46-Sky Team Manager, Pablo Nieto, spoke to me once, in June," Kalex designer Alex Baumgärtel told speedweek.com. "But since then I haven't heard from him." Whilst Kalex isn't Rossi's only option for moving into Moto2, it's very much the frame to be on. Kalex currently run 23 of the 31 bikes on the Moto2 grid. 
The other option for the VR46 team could be a Suter frame. Suter used to be the best chassis, guiding Marc Marquez to his Moto2 World Championship in 2012. Since then, Eskil Suter hasn't enjoy the best of times in Moto2, but he is open to some new, high profile customers in a bid to reignite his Moto2 efforts. Although it doesn't look like it will be the VR46-Sky team. 
"I know that they had an interest at some point. But it was only apparently, and they never became concrete," explained Suter.
Despite looking to just remain in Moto3 rather than move up, there was talks with KTM Head of Motorsport, Pit Beirer, over expanding their current effort into a three bike team. "The VR46-Sky team confirmed at the Sachsenring they want two bikes for their riders. They even spoke of a third motorcycle." 
Whether that two, or potentally three rider team contains Romano Fenati remains to be seen, with Fenati possibly ready for one final season, to try and win the Moto3 World Championship.