Danny Kent and Miguel Oliveira to Moto2 with Leopard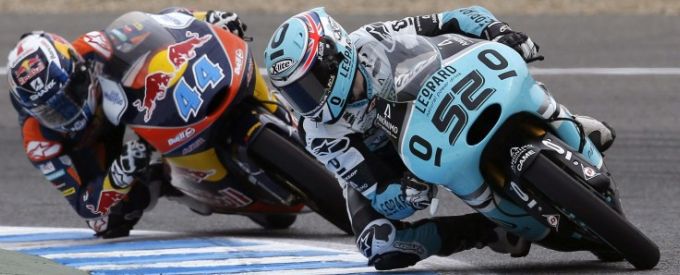 Danny Kent looks set to reject the opportunity to move into MotoGP, and will instead move into Moto2 with Leopard Racing. It now appears he will also be partnered by current Moto3 rival Miguel Oliveira. 
Kent currently leads the Moto3 World Championship by a commanding 70 points with just six rounds remaining, giving Kent the best possible platform to leave Moto3 as a World Champion. Kent has dominated this season's Moto3 World Championship, asserting dominance and showing class, making people in the paddock sit up and take notice.
Kent of course had an offer from Pramac on the table, but they have since signed Scott Redding. Despite not getting the Pramac ride, Kent did still have MotoGP offers on the table, but it now looks as though his relationship with Stefan Kiefer and Kiefer Racing have seen Kent decide to move back into Moto2. 
"After Brno I was approached and had another offer to go to MotoGP," Kent told GPxtra in an exclusive interview. "I can't say who it was from, or with what manufacture they're a part of, but it's good to know it's not just Ducati and Pramac who're taking notice of what I am doing. We had a lot of meetings in Silverstone, but there are still options should we want to make the move up to MotoGP.
"We also need to keep the option of Moto2 open. Yes, any riders dream is to go to MotoGP, but we want the right package. We're not going to go there and sit at the back, so if we don't get the right package we will go to Moto2."
Whilst Kent wouldn't say who his second offer was from, it was widely reported that the Power Electronics Aspar Honda team had approached the Brit, but with the Open Honda struggling to make an impression, the offer of Moto2 is more appealing. 
When Kent makes the move to Moto2, it will be his second stint in the class. In 2012, Kent moved into Moto2 with the Tech3, on a Mistral 610 machine. It was a disastrous season, which saw Kent finished 22nd overall, before returning to Moto3 with Aki Ajo last season. 
Despite the disastrous season in Moto2, Kent insisted that his experience in the class on the Mistral wouldn't effect his decision.
"It was a bad year, but I feel as though I have matured a lot, and improved as a rider since then. Everyone knows the Mistral 610 wasn't the best of bikes, nor the easiest of bikes to ride. But if we go to Moto2 with the team I'm in now with my current crew chief, who have experience in the class, and won the World Championship with Stefan Bradl. If I can go there on a Kalex, then I can be consistently and immediately in the top five. 
"Look at Alex Rins. I beat him plenty of times, and he's now showing what he can do. There can be no reason why I can't be at the front," he said.
With Kent all but confirmed he will be in Moto2 with a former World Championship winning team, on a Kalex, many people thought that Kent would be a single rider, much like current Moto2 World Championship leader Johann Zarco has done with Aki Ajo, who's expanded into Moto2 for the first time this season. 
However, when it was revealed that Leopard had informed IRTA they plan to have five riders next season, it appeared at least two must be in Moto2. Whether they will run five riders for next season remains to be seen. Current IRTA rules state that from next season, teams cannot have more than two riders per team in Moto3. However, today's announcements look as though the rules may be bent on this.  
Leopard have Fabio Quartararo and Joan Mir secured for next season. They also wanted to add Italian Pecco Bagnaia to their ranks, although at Silverstone he re-signed to his Mahindra Aspar team for 2016. Leopard's intent to run three riders comes after the earlier announcement that Nico Bulega will join Fenati and Migno in the VR46 team. 
With Danny Kent in Moto2, reports in the Italian press from back in August suggest Leopard wanted Italian Simone Corsi as their second rider for 2016. There had been speculation, after Giovanni Cuzari's arrest that Leopard would take over as title sponsor, and absorb the Forward Racing team. With Forward already having all the resources and competing in Moto2, it would've made sense.  
However, GPxtra has now learned that young Portuguese rider Miguel Oliveira will join Kent in the Leopard Moto2 team. Oliveira is regarded as one of the best young riders in the paddock, and was Kent's biggest title challenger, before a broken hand at the Sachsenring effectively ended his title charge. 
The legend goes that Miguel Oliveira was set to beat Maverick Viñales to Spanish Championship glory, and won more races that the Factory Suzuki rider, but eventually lost out due to too many crashes and Viñales' consistency.
Since joining the Red Bull Ajo KTM team this season, Oliveira has had the resources to achieve results many knew capable of him, seeing him win in both Mugello and Assen. With the added maturity from this season, Oliveira would be an outstanding partner for Kent.
Whilst Kent's move to Moto2 with his existing team is all done, don't expect an announcement until Oliveira's contract is finalised. Once the Portuguese rider has dotted his i's and crossed his t's, expect to see Kiefer Racing's return to Moto2 official. 
Photo via Leopard Racing