Fenati to remain in Moto3 in 2015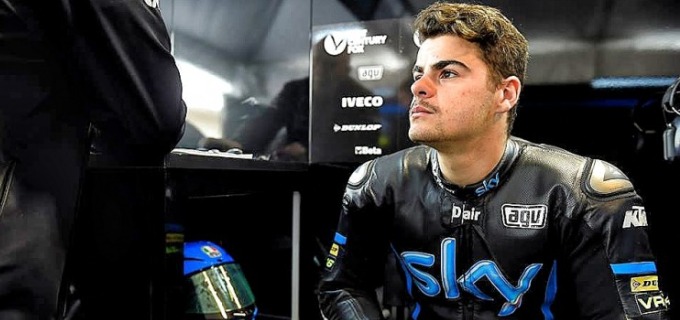 Romano Fenati will spend a fourth season in the Moto3 World Championship in 2015, even if he wins the title this season.
The Italian was looking like a real contender for the Moto3 title this season, but crashes in Assen and the Sachsenring has left Fenati 32 points behind championship leader Jack Miller, rather than the seven he was before Assen. Along with Miller's lead, the sudden progression of the Honda's means Fenati may now struggle to win the title this season. 
The 18-year old has already won three races in 2014, taking wins in Argentina, Jerez and at home in Mugello, and was widely tipped to move onwards and upwards from the Moto3 class with Miller, Rins and Marquez, but Fenati will have one more bite at the Moto3 cherry.
Fenati deciding to stay another season has solved a potential dilemma Valentino Rossi would've found himself in. Rossi has invested a lot of time and money into helping young Italian riders come through the ranks with the VR46 academy and his Moto3 team. He set it up to help the young Italians get decent chances in World Championship racing, and he would be disappointed to loose Fenati, arguably the biggest young Italian talent, after just one season.
There were rumours that Rossi and friend and VR46-Sky team manager Vito Guareschi were considering upping the VR46-Sky team effort into Moto2 with Fenati and Franco Morbidelli as potential riders, but that was never on the cards for Guareschi or the team, who is still giving the Moto3 team their full attention in their first full season.
"We have to wait, because we have just started with the Moto3 team," Guareschi told speedweek.com. "Currently the situation isn't clear. Four to six weeks ago, it looked different…"
Guareschi wanted to be clear, stressing that they don't want to just keep Fenati in the Moto3 class in order to try and make him win the Moto3 championship. They want to keep him there as he is young, and they feel it would be the best opportunity to develop as a rider.
"I know that riders such as Salom and Stoner never won the World Championship in the smallest class. Romano is only 18 years old. He is still very young.
"He has two miserable Moto3 years behind him… He really can stay one more year in this class. But we focus on now for the time being, in a few months we'll see."
Just what the plans for 2016 are remain to be announced. Whether Rossi and his team decide to move the effort up to Moto2 remains to be seen. There is a chance that the VR46 team may be significantly pumped up when the man himself decides to retire from Grand Prix racing.