Romano Fenati to head a 3 man Sky team before Moto2 move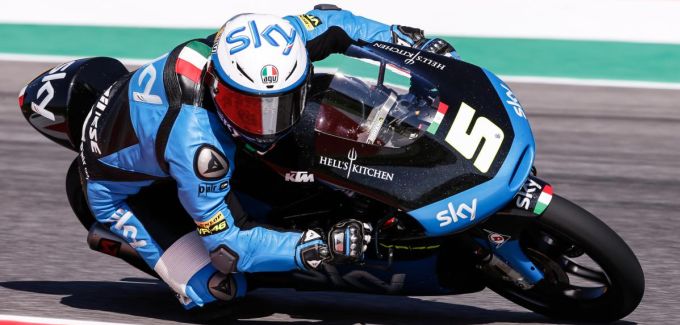 Romano Fenati will give the Moto3 World Championship one last go in 2016, as part of a three man Moto3 team, before moving into Moto2 with the Sky Racing VR46 Team in 2017. 
Just four weeks ago, the notion was laughed off, that the Sky VR46 team would expand into Moto2 and take Fenati with them. There had been speculation that Fenati had signed a deal elsewhere – Speedup replacing Sam Lowes or QMMF were both mentioned – but yesterday the Sky Racing team made his plans official. Moto3 next season, before moving to Moto2 with them in 2017.
The 19-year-old feels like he has been around forever, and next season will be his fifth in Moto3, with him constantly struggling with the same problem. Weak qualifying and anonymous rounds stopping him from ever truly challenging for a World Championship.
There had also been rumours that his boss, Valentino Rossi, was running out of patience with his lack of title challenging form, and was willing to part ways with a rider who he has invested so heavily in. But yesterday's announcement shows the faith the Doctor has in Fenati.  
The team also announced that Nicolò Bulega will join Fenati and Andrea Migno in the team for next season. Current rules state that teams cannot have more than two riders per team, but the Sky Racing Team have gone to IRTA and been given special dispossession due to the fact Sky are the host broadcaster of MotoGP in Italy. 
There was a school of thought that Bulega would have to remain as part of his PATA VR46 team, just as a technicality, but with the news of Sky's special privilege, it will be a three man team in Sky next season. 
Photo via Sky Racing Team VR46