Lorenzo's crew chief to remain at Yamaha and work with Viñales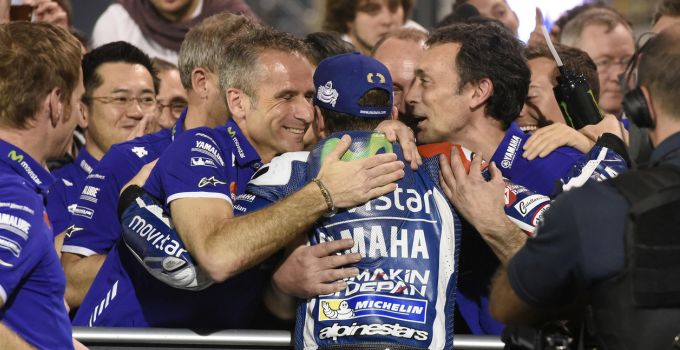 Reigning MotoGP World Champion Jorge Lorenzo's crew, including his crew chief Ramon Forcada will stay with Yamaha aiding Maverick Viñales in the 2017 season; not follow the Spaniard to Ducati. 
Lorenzo confirmed the news today at the post-race test in Barcelona that not only Ramon Forcada – his crew chief for his entire MotoGP career – would stay with with Yamaha, to work closely with new Yamaha rider Maverick Viñales, but that Lorenzo would be leaving all bar one of his entire crew, when he makes the move to Ducati next year.
Forcada is renowned as one of the best in the business at his job, and Lorenzo wasn't shy in his praise for his crew-chief, whom he referred to as one of the best suspension technicians on the grid. Lorenzo also said that he beleives that Forcada and Viñales will form a strong partnership, with the youth of Viñales mixing well with Forcada's experience.
The World Champion explained that he beleives Forcada decided to remain with Yamaha due to his age and familiarity with the bike. Forcada is in a similar position to what Jerry Burgess was with Valentino Rossi, when the Italian made the move to Ducati. Burgess decided to make the move to Ducati with Rossi, and was ultimately replaced by Rossi after just one season, when the Italian returned to Yamaha. By staying at Yamaha and working with Viñales, Forcada will remain as part of a team he knows inside out.
As well as Forcada, Lorenzo will be losing the services of the likes of Wilco Zeelenberg, Davide Marelli and Javier Ullate, Ian Gilpin and Juri Pellegrini – all of whom have helped Lorenzo form a strong team and between them helped Lorenzo to three MotoGP World Championships.
The only man joining Lorenzo at Ducati will be Juan Llansa. Llansa has been with Lorenzo since the Spaniard's 125cc days and has formed a very close friendship with the Mallorcan over the past 13 years, persuading him to also take the plunge. 
'Juanito' as he is known also has a Lorenzo tattoo on his leg, so it is little surprise he is willing to continue to follow Lorenzo, as he did in the lower categories and into MotoGP in 2008. 
The early names that GPxtra has been hearing is that of Daniele Romagnoli. Danilo Petrucci's current crew chief has Ducati experience as part of the Pramac team, whilst also having previously worked with Lorenzo as manager of Lorenzo's side of the Yamaha garage back in 2010. 
Photos via Movistar Yamaha