Jorge Lorenzo and Ramon Forcada to split?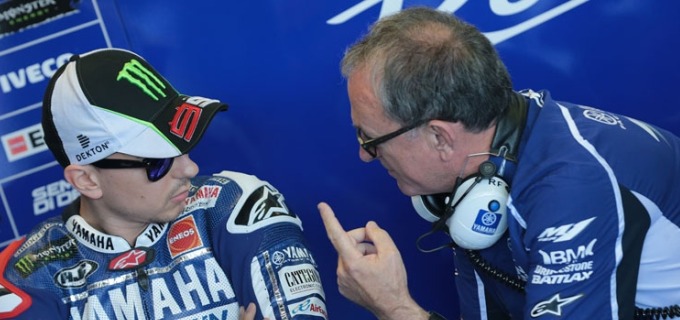 Jorge Lorenzo may be about to leave his trusty crew chief Ramon Forcada at the end of the 2014 season.
A crew chief was seen as the most important man for a rider. He is the voice between the rider and the crew. Translating the wiggly hands and swear words from under the helmet into instructions for the crew to carry out to cure that chatter or re-dial the electronics. They are key. Good ones are irreplaceable.
At least that was the thought, but it now appears after the most famous duo split, others may be following suit. 
Last season we saw Valentino Rossi and Jeremy Burgess, the most famous pairing in MotoGP split after thirteen years and seven world titles together. Rossi had said that he felt it was time for a change and some fresh ideas. He took, in his own words, a gamble and appointed compatriot Silvano Galbusera with whom he had a very brief passing by with in 2010. You could argue that the move has seen Rossi rejuvenated, looking much more competitive this season. 
Now it appears there could be a significant change happening in the other side of the garage. Jorge Lorenzo and Ramon Forcada have been together since the Mallorcan arrived in MotoGP back in 2008, and have won two MotoGP World Championships between them. Forcada had been credited with helping Lorenzo mature from a temperamental teenager into a MotoGP World Champion. However, it now seems that their journey together will end at the end of the season. 
"It's just rumours I think," Lorenzo said in Silverstone.
"Also I hear a lot of things, that maybe Ramon has an offer from Suzuki or something like that. I don't know. For the moment it is just rumours. I think in a few weeks we will speak together with the team and decide what to make.
"For the moment I am happy with my crew," he confirmed. 
But it now appears that Forcada is ready to part ways with Lorenzo and Yamaha, and he will indeed join Suzuki, taking on the role of crew chief for up and coming MotoGP rookie Maverick Viñales, taking the young Spaniard under his wing, much like he did with Lorenzo in 2008. 
When Valentino Rossi was asked his opinion on the potential split between Lorenzo and Forcada, he said he couldn't offer much advise, as it was a very personal decision. 
"I think that for me it is very difficult to speak about Dani and Jorge because it is a very personal decision," said the Doctor.
"For me it was very difficult to make the decision because of almost 15 years together with Jerry. But unfortunately we were not able to find the way to improve the bike last year. For this reason, I thought inside that I had better potential and if I had a better setting I could fight with Lorenzo, Marc and Pedrosa. 
"So I did this difficult decision but it is impossible for me to speak about them."
If Forcada does end up leaving Lorenzo, rumours from the paddock suggest that Cal Crutchlow's current crew chief Daniele Romagnoli would be the man Lorenzo would want next to him. Moto-Journal say that the former manager of Lorenzo's side of the garage would be the first man Lorenzo wants, as the two have obviously kept close despite Romagnoli following Crutchlow to Ducati.
Whether this means Bradl and Christophe Bourguignon now split, leaving Beefy Bourguignon remaining to take the reigns with Crutchlow we don't know yet. There is also the option of Pedrosa splitting with his long term crew chief Mike Leitner, meaning there wouldn't be a shortage of man capable of the job for Crutchlow should Romagnoli return to Yamaha.