Lorenzo: It's good to have Dovizioso as a team-mate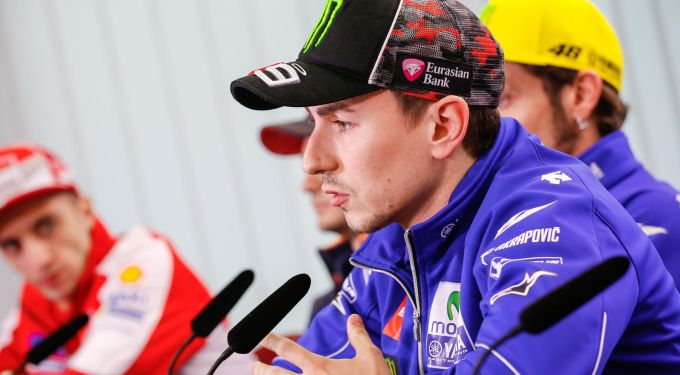 Reigning MotoGP World Champion Jorge Lorenzo described his Ducati team-mate for next season as a "very clever guy", whilst also said that his replacement at Yamaha, Maverick Viñales could beat Valentino Rossi in his first season with Yamaha. 
Ducati announced earlier this week that they had renewed the contract of the 30-year-old Andrea Dovizioso, allowing the 26-year-old Andrea Iannone to walk, and ultimately sign a two-year deal with the Suzuki factory. Dovizioso has done a lot of work, helping turn the troubled Desmosedici into a bike capable of finishing on the podium every week.
The work done by Dovizioso has left Lorenzo very impressed with the decision of Ducati to keep him a further two years as his next team-mate.
"I think it's good to have Dovizioso as a team-mate," the Spaniard said during the pre-event press conference in Mugello.
"For me he's always been a very clever guy, he is very logical and I hear that he is very good at testing the bike too," he said.
Despite Iannone not having his contract renewed, Lorenzo said that he would've been equally as happy working with Iannone had that been Ducati's decision.
"Obviously for me it would have also been okay if Iannone had stayed in the team. He's very fast and his riding style is very similar. For me both them would have been good team-mates, but was the decision of Ducati," said the Spaniard. "I will be more conscious of it in seven or eight months time. For now I have Rossi as team-mate. We're at Yamaha and have a long way to finish this championship."
The seat that Lorenzo is vacating at Yamaha was officially filled by Maverick Viñales today. Yamaha confirmed the Spaniard will join Valentino Rossi in the Movistar Yamaha team, as replacing his compatriot next season. It was a deal that Lorenzo approved of, and he also issued a warning to the Doctor. 
"He may be the fastest rider, the most talented and the most ambitious of us all. Yamaha had quite an easy decision choosing Maverick as my replacement. I think he will do very well. The Yamaha is a great bike and Maverick is one of the best riders today, whilst still only 21," he said.
"Maverick may come in and go faster than Valentino right away. In racing you never know what can happen." 
This weekend marks the first time in which Lorenzo will make his public return to Italy since the controversial end to the 2015 MotoGP season. Series organisers Dorna made the decision to assign bodyguards to both Lorenzo and Marc Marquez. Whilst Lorenzo obviously hopes the body guard has an easy weekend, he did say: "they are ready to work".
"In the paddock I don't know if it's necessary. Maybe outside the paddock… There are a lot of fans in Italy, and you don't know how the fans may react. So the bodyguards are there and if we do not need them, then it's okay. But if we do need them, they are ready to work," said Lorenzo.
Photos via MotoGP.com