Lorenzo suggests Stoner will wildcard in 2016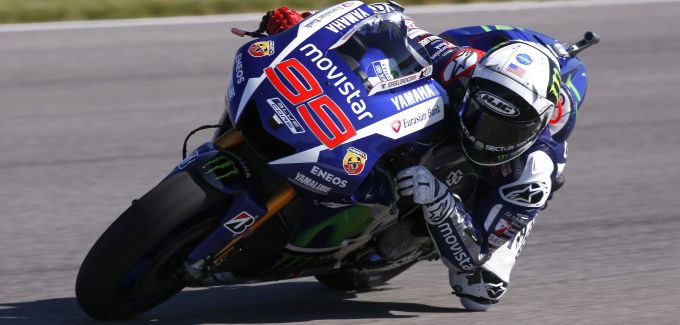 In an interview with Spanish media, MotoGP World Champion Jorge Lorenzo has suggested that he thinks that former World Champion Casey Stoner will make a return to MotoGP racing in 2016.
Stoner will of course move from Honda to Ducati in 2016, although only in a test riders capacity, with Ducati yet to confirm nor deny that Stoner will be wildcarding in any races next year. One of the main motivating factors behind Stoner's move was said to be the opportunity to get more time on the bike, with Honda tests few and far between. Ducati's testing programme is arguably the most thorough and committed in MotoGP, leaving Stoner with hours on the Desmosedici should he please.
Along with wanting more time testing, the Australians relationship with Honda had also deteriorated after HRC declined Stoner's offer to stand in for his close friend and former team-mate Dani Pedrosa, with the Spaniard out injured for the Austin and Argentine rounds – two races Stoner was specifically keen to race in, as circuits he hasn't been to before. HRC elected to go with test rider Hiro Aoyama instead, who finished eleventh in Austin and didn't finish in Argentina. 
Despite retiring from MotoGP back in 2012, Lorenzo and Stoner have remained good friends in the Australian's retirement, contacting each other regularly, with the World Champion revealing he congratulated Stoner upon hearing the news he was re-signing with Ducati.
"[We talk] in Twitter with direct messages or on WhatsApp. We don't talk every day, but sometimes we ask how each other is, and I congratulated him when I heard he was moving from Honda to Ducati, because I think that was what I wanted and I hope to see him making a full return with us. I want to see if he has lost it or not at level it was before," Lorenzo told Spanish newspaper AS.
The 2015 World Champion admitted he would love the opportunity to once again race with a man he called one of the best of this generation.
"I'd love to fight and compete with Casey for more wins. Two [riders] is better than one, and three [riders] is better than two," he said.
"It is good that we have another rider, who's so spectacular, talented and as fast as Casey, fighting for the victory with us four, five or sometimes six [others]."
Despite the time out of the sport, Lorenzo believes the 30-year old Australian would still be extremely fast and competitive at Phillip Island, a circuit where he won for six consecutive years from the year of his first World Championship in 2007 right through to his final appearance on 'The Island' in 2012. 
"We will be able to tell Saturday afternoon in Australia [how competitive he is]. I don't think he's lost a lot, because two or three years isn't much and Casey has natural talent to go fast with any bike right away." 
Photos via Movistar Yamaha