Viñales decision due next week; swaying towards Yamaha?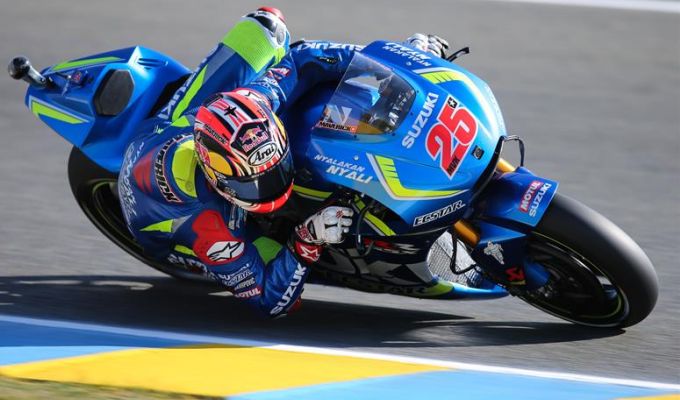 Suzuki or Yamaha? The Maverick Viñales drama looks set to be resolved next week in Mugello, with the Spaniard swaying towards a move to Yamaha.
Last week speculation from reputable sources in the UK and Spain that Yamaha had signed Dani Pedrosa to replace the outgoing Jorge Lorenzo, who himself in Ducati bound. GPxtra sources said they believed that Yamaha had spoken to Pedrosa, but the move was move to push Viñales on a decision rather than something that had already been signed by Pedrosa. 
Viñales was unhappy with Yamaha's offer and wasn't against staying with Suzuki, especially with their contract offer which was thought to have been over a million euros more than what Yamaha had offered him.
After his third position finish in Le Mans, Lin Jarvis joked that Yamaha had secured all three podium positions, suggesting further that a deal with Pedrosa was far from confirmed. 
GPxtra has learned that Viñales will make a decision on his future at the Thursday afternoon pre-event press conference in Mugello. The Spaniard will announce if he is signing a new, bigger contract with Suzuki, or if he will be replacing the World Champion. 
His manager Paco Sanchez said that Viñales' decision is a matter of following his heart or trusting his head. It appears as though he is swaying towards trusting his head now. 
"Suzuki is a family and they trusted me. I made my debut with them in the premiere class and I get along very well with my team and the top management," the 21-year-old told US magazine Cycle World.  
"I know that if I stay, the development of the bike will be made around me and this helps. It is a romantic dream to try and gain a title for Suzuki as Kevin Schwantz did. But Kevin won only one crown, while in those years Mick Doohan won five titles with Honda. This makes me think. I believe that Kevin's bike was not at the same level of the other bikes and he made the difference. So to have a competitive bike is the key.
"Anyway, I'm proud that someone can put my name next to Schwantz, but in the end you need results. If I finish fourth or fifth , I'm not a legend, not even with Suzuki, so I have to look for something that will allow me to gain a world title. And if the team that has won the world title looks for you, it's difficult to say no," he said.
Viñales did speak about his potential new team-mate Valentino Rossi in previous weeks, saying he beleives the Italian can "teach him everything". Viñales also reaffirmed this belief, whilst suggesting that Rossi's talents aided Lorenzo on his course to three MotoGP World Championships.
"It will help me a lot to grow as a rider. He has so much experience and if he has won nine world titles it means that he has something special. Moreover, the competition with the teammate helps you to raise the bar and compete at another level. Look at Lorenzo, he has won three MotoGP world titles."
Photos via Suzuki-Racing.com