Suzuki tell Viñales to have a decision on his future by Le Mans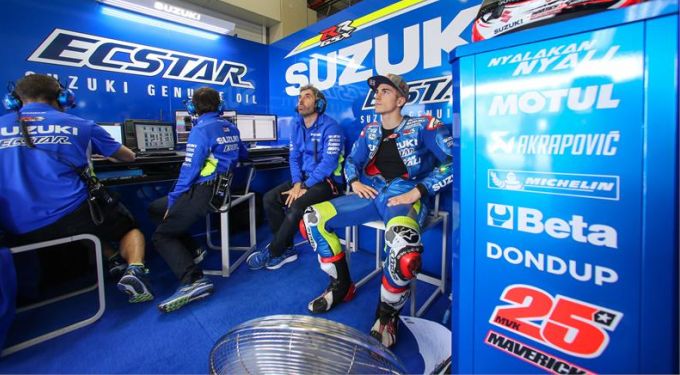 Suzuki have given Maverick Viñales ten days to decide his future, and will be expecting an announcement from the Spaniard at the French Grand Prix in Le Mans.
Viñales has become the subject of an offer from Yamaha after it was confirmed reigning World Champion Jorge Lorenzo had elected to sign with Ducati and not extend his contract with the Japanese factory. Viñales' current contract with Suzuki has the option of a third year, but he may exercise his early exit option and may take the second M1 alongside Valentino Rossi. 
After Yamaha's one-two finish in Jerez, Viñales did admit that it was a head turner and got him thinking about what he could achieve as part of the Movistar Yamaha team, especially alongside his hero, Valentino Rossi, a man who he said could "teach him everything". 
With both Yamaha and Suzuki after Viñales, his current employer have notified the 21-year-old that they will need a decision by the next meet in Le Mans in just ten days time. 
"Suzuki deserve an answer soon, so that there isn't too much of a mess in the team," Viñales told Catalan radio. 
Viñales recently broke from his manager Aki Ajo and his new manager Paco Sanchez was in Jerez this past weekend and held meetings with both Yamaha and Suzuki representatives. Suzuki are happy to up the money on Viñales' current contract and are also more than willing to add a fourth year to his deal should that become a potential "deal-breaker". On the flip-side Viñales is said to be unhappy with Yamaha's offer and has gone back to them politely declining their latest offer. 
"This week I will make my decision and Le Mans communicate it. Davide Brivio asked me to tell him in Le Mans and he deserves that respect. Everyone sees that certain bikes are front whilst we're suffering. I must think about it, it's a difficult time. I have great confidence in Suzuki, but I look the other way and want to be World Champion," he said.
If Viñales does end up leaving the Suzuki factory then Suzuki could turn to Italian rider Andrea Iannone to replace him. Iannone has an offer on the table from the factory Suzuki team and is said to be unhappy with waiting around for Ducati to make a decision on who will partner Jorge Lorenzo in 2017. 
Photos via Suzuki-Racing.com