Viñales admits Yamaha 1-2 gets him thinking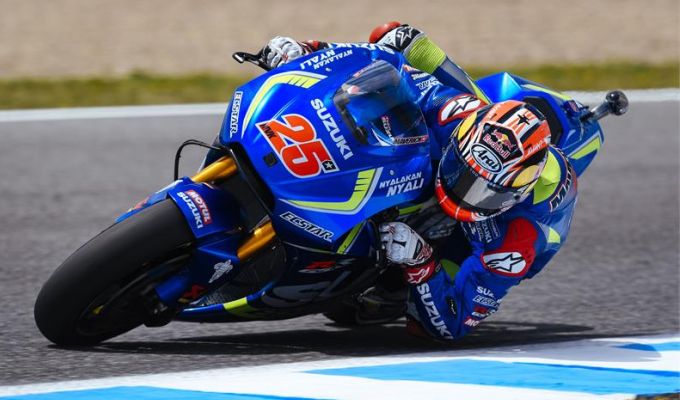 Ecstar Suzuki rider Maverick Viñales has said that Yamaha's domination in Jerez has made his decision for next season even tougher, with a contract offer on the table from the Japanese factory.
Viñales has been linked for multiple weeks with Yamaha, and with the next last week that reigning World Champion Jorge Lorenzo would be leaving the Movistar Yamaha team after nine-seasons, the Spaniard became overwhelming favourite to replace Lorenzo on the soon to be vacant M1.
Viñales' current contract with the Suzuki factory allows him to opt-out after just two years and it appears as though Viñales will be taking advantage of that option. The rumours in Jerez said any hold up centred around Yamaha low-balling Viñales, whilst Suzuki were said to be doing everything in their power to keep hold on him. 
Last week the 21-year-old was saying how he believes he can learn "everything" from potential future team-mate and winner of Sunday's Spanish Grand Prix, Valentino Rossi, and after Sunday's race,Viñales did admit that the factory Yamaha 1-2 really got thinking about 2017.
"For sure it makes me think, because when you see [Factory Yamahas] in first and second and me and Aleix are fifth and sixth, you think a little bit," said Viñales who ended Monday's post-race test third fastest behind Marc Marquez and Lorenzo.
"But I trust Suzuki and I still trust that still they can show me the results."
Spanish media were reporting earlier in the weekend that Viñales was due to make his decision at the next meeting in Le Mans, which will take place in just under a fortnights time. Whilst Viñales didn't confirm that, he did say he would like to make a decision on his future soon.
"Really, I want to clear [on the future] fast now," he said. "Because Lorenzo made the decision [to move to Ducati] and now I think it's important to take it [next year] out and concentrate on racing."
Photos via Suzuki-Racing.com