Jarvis admits Viñales is closing in on Yamaha switch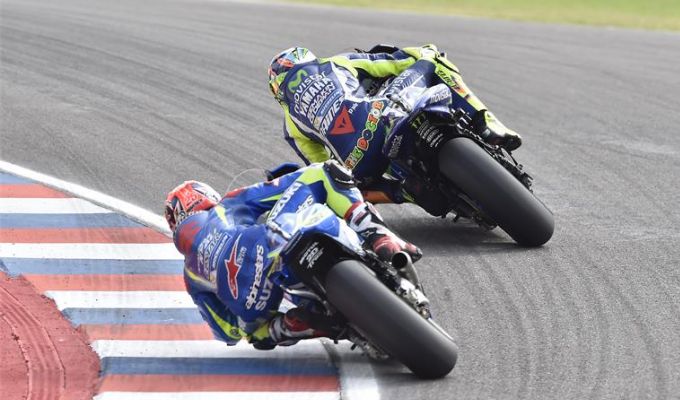 Yamaha Motor Racing Managing Director Lin Jarvis this afternoon confirmed that Maverick Viñales is close to replacing the outgoing Jorge Lorenzo in the Movistar Yamaha team for 2017 and 2018. 
The Spaniard has been widely tipped to replace the reigning MotoGP World Champion at the end of the 2017, however nothing has been made official as of yet. Viñales has a three-year contract with Suzuki, however an option to terminate the contract at the end of two years looks set to be activated, paving the way for a move to Yamaha.
The hold up at the moment is thought to be regarding Viñales' personal sponsorship with energy drink sponsor Red Bull. The Movistar Yamaha team received major sponsorship from American rival Monster Energy. Whilst this isn't expected to prevent a deal from taking place, it is said to be a current stumbling block. 
Jarvis was present at the pre-race press conference in Jerez where he said that he is in no rush to find his second rider, also confirming that Yamaha were talking to other riders and not just Viñales. 
"There are lots of on going discussions and there is no deadline [to sign a second rider]. In this moment, I am very close [sat next to Viñales]," said Jarvis with a smile.
"We're in discussions with the managers of several riders. We have expressed our interest and there are ongoing discussions."
Viñales confessed that it'll be a tough decision choosing between Suzuki and Yamaha, although he did admit that having both Suzuki and Yamaha after him gave him confidence in his abilities and made him feel very good.
Just yesterday Viñales said that he thinks that he can learn "everything" from Rossi, however one rider who most certainly won't be joining Rossi in the Movistar Yamaha team is Marc Marquez. 
"I think it's highly unlikely that Vale and Marc Marquez will share the same pit-box next year," joked Jarvis.
GPxtra mocked up an image of what the Spaniard will look like on an M1 next season. 
Coming Soon? pic.twitter.com/4fzS7uUZrm

— GPxtra (@GP_Xtra) April 20, 2016
Photos via Suzuki-Racing.com