Dovizioso speaking to KTM regarding second MotoGP seat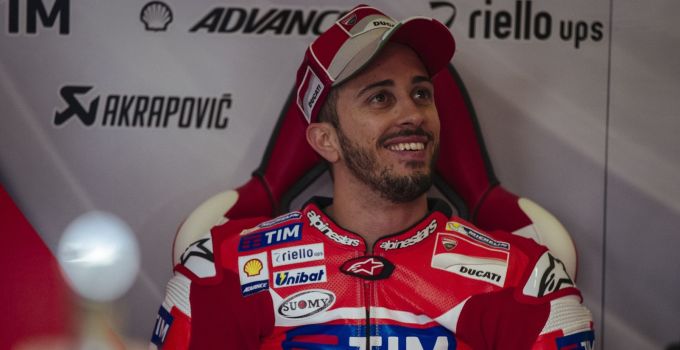 Andrea Dovizioso has admitted that he has spoken to KTM regarding their second seat, as speculation over his future continues.
Dovizioso's future with the Factory Ducati squad is currently up in the air. The factory has signed three-time MotoGP World Champion and therefore has to make space for the Spaniard by not renewing the contract of one of their current riders. 
Iannone is still widely expected to be retained by Ducati although he and his manager Carlo Pernat have spoken to Suzuki officials and have an offer on the table from the Japanese factory as they anticipate losing Maverick Viñales to Yamaha. If Iannone is kept on at Ducati to share the garage with Lorenzo, then Dovizioso will be on the hunt for a new employer.
According to German website Speedweek.com, this past Saturday night in Jerez after qualifying, KTM Head of Motorsport Pit Beirer held a meeting with Dovizoso's manager Simone Battistella, to discuss a possible contract between the Italian and the Austrian factory.  Ducati boss Paolo Ciabatti knew about the meeting as pressure mounts on Ducati from both existing riders in a bid to secure contracts for 2017 sooner rather than later.
Dovi has ridden for Honda, Yamaha and Ducati in his nine years in MotoGP making him a potentially valuable asset for a factory like KTM who are joining the sport next season and will have serious development needs upon joining the paddock. KTM of course have already secured the signing of Bradley Smith, but Dovizoso offers another level on feedback and development than the Brit.
Beirer didn't deny the meeting, admitting he had been in talks with riders management over the second MotoGP seat all of Saturday.
"I've had MotoGP appointments all day. I've not even had time to visit all my Moto3 team managers today," Beirer told speedweek.
As well as Dovizioso, KTM are also exploring the option of signing Jonas Folger. The German has demonstrated the consistency to match his natural speed in the opening rounds of 2016. The 22-year-old came into the World Championship on the back of the KTM backed Red Bull Rookies series, and with Red Bull sponsoring the project, the want of a Red Bull Rookies Champion on the Red Bull MotoGP machine is understandable.
Folger is also being considered for the satellite Yamaha team, with Herve Poncharal a big fan of the German and if he gets his way will have him as part of his Tech3 team without without Honda target Alex Rins.
One rider who won't be on the KTM next season is Dani Pedrosa. Pedrosa is widely expected to sign another contract extension with the Repsol Honda team extending his stay into a 13th season with Honda. There had been talk that Honda were targeting Alex Rins for the second seat alongside Marc Marquez, but as things stand it's still Pedrosa who is pencilled in for the second seat. 
Pedrosa had been linked with the KTM seat due to his links with Mike Leitner. Leitner served as Pedrosa's crew chief for his first ten seasons in MotoGP before leaving the Spaniard to join KTM's MotoGP project. A dubbed salary of 6 million euros was floated around as a rumoured contract proposal to Pedrosa, however this is way above what KTM are willing to spend on a rider. 
Photos via Ducati Corse