Marquez ensures he finishes and settles for third position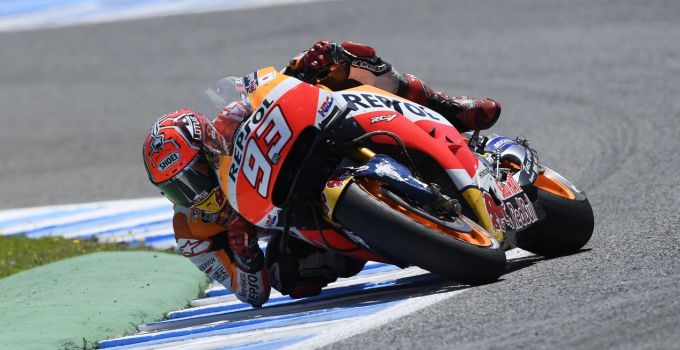 Marc Marquez demonstrated his advanced maturity as he accepted third position in a tough race during Sunday's Spanish Grand Prix at Jerez. 
The Repsol Honda star started from the outside of the front row, however he conceded he never truly had the pace to challenge race winner Valentino Rossi at the front of the race. Despite not having the pace to challenge Rossi for the victory, Marquez was close behind Lorenzo for the first half of the race.
However, once the track temperatures rose, Marquez said he felt the front end of his Honda RC213V nearly go on multiple occasions, prompting him to back off and bring it home in third place, claiming 16 valuable World Championship points. 
"Honestly, today Valentino [Rossi] was on another level, like I was in Austin, and the most important thing is that today we accepted finishing third in the race," said the 23-year-old.
"I learned a lot from last year and and I didn't want to make a mistake. I was very focused from the start and I tried to ride strongly and stay with Jorge [Lorenzo], but I could tell that with the higher track temperatures – 11º C higher than yesterday – it was very difficult for me to manage the front tyre well.
"I almost crashed several times, so in the end I made a difficult decision in front of our fans, as we preferred to secure 16 points that will be very positive at the end of the season, which is very long," he said.
Marquez will stay behind with the rest of the MotoGP paddock to partake in the one day test at Jerez tomorrow (Monday). Despite the progress shown from Marquez and Honda in the opening races, Marquez insists that there is still aspects of his bike that need improving – namely softer acceleration.
"We must have patience until we take a step further with the bike's acceleration and find something else that allows us to fight for the win," said Marquez. 
Marquez' MotoGP World Championship lead is still 17 points over Jorge Lorenzo and 24 points ahead of Valentino Rossi with the Le Mans race in two weeks time. 
Photos via Repsol Honda