Marquez refusing to give up on title aspirations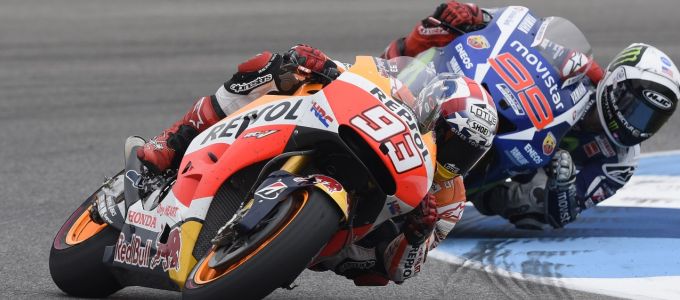 Marc Marquez isn't ready to throw the towel in just yet, and concede the 2015 MotoGP World Champion, after claiming his second victory in as many races in Indiana.
Marquez' victory at the Indianapolis Motor Speedway saw him claw nine points back from Valentino Rossi, who could only manage third place himself. Marquez' resurgent form coincides with him switching back to the 2014 chassis at Assen, where he has claimed a second place and two wins since.
If Marquez is to win a remarkable third MotoGP World Championship in as many years, he will have to overcome a 56 point gap, an average of 7.2 points in each of the remaining races this season. 
"For me the target is to win the races. Of course it's not in my hands the other podium results, like Jorge second and Valentino third," Marquez said claiming his third win, the same as what Valentino Rossi has managed through 2015.
"But okay we were 65 [points behind], now we are 56. We are closer. Still we believe, but we must be honest. It will be really difficult."
"My target is to enjoy riding the bike, win races and here we were able to win. Now we will arrive in Brno and there we will see. If we struggle during the weekend and are not able to win the race or fight for the victory we will try to finish on the podium.
"We know that both Yamaha riders have a really good pace and if we want to beat them every race, or try to be ready to fight with the, we must work a lot, especially at some circuits.
"Will be difficult because both Yamaha riders are really strong, Today I followed Jorge for a lot of laps, in Assen Valentino, and I saw that they have a really good potential. Especially on corner-exit acceleration. But anyway we are working on this area to try to improve."
Marquez won his seventh MotoGP race in America, in as many rounds, building on two Moto2 victories there, meaning Marquez hasn't been beaten in America in any race since 2010. However for 24 of the 27 laps, Marquez found himself behind Lorenzo, but ultimately the Honda man had too much for his compatriot.
"Honestly I expected another race because during practice I was able to ride '32s high, but it looked like Jorge was more '33s low and in the race he improved a lot," he said.
"I saw with 15 laps to go Jorge was strong and I was not able to go in front and open a gap. So I decided to say behind him and attack at the end. We did like that. I pushed a lot in the last laps and we must be happy because we won the race."
Photo via Repsol Honda