Marc Marquez still plagued by front end issues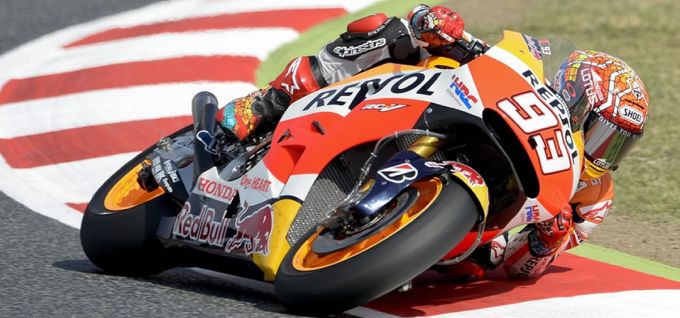 Reigning World Champion Marc Marquez crashed out of his home Grand Prix on just the third lap, leaving his title defense in disarray. 
Marquez crashed out of a race for the third time in just seven races this season, as he continues to battle with the front end of his Honda RC213V.
Marquez was battling with eventual race winner Jorge Lorenzo on the third lap of Sunday's Catalan Grand Prix, when a slide under braking for turn ten meant he had to run wide into the gravel trap, where he lost control of his bike and fell. 
"Today was the day that I felt closer to Valentino and Lorenzo's pace," said the defending two-time MotoGP World Champion.
"When I started the race I felt strong behind Jorge, but still this problem that we have with corner entry – I'm happy because this weekend we did a step – but the problem is still there. And one thing is riding alone in practice, when I can go wide or tight when I slide and loose maybe one tenth of a second. 
"Today when I was behind Lorenzo I braked at the same point, but I had a slide and it was so difficult to stop the bike. Then I saw Lorenzo in front of me and had to decide to go in [to the corner] or go wide.
"I saw that to go in was too dangerous for both of us, so I decided to go wide. Then I saw the wall was coming really quick and when I entered the gravel I was too fast. The gear lever was damaged so I had to stop. I'm disappointed because we lost many points, but happy on the other side because we did another step [with the bike this weekend].
"Tomorrow we have an important test where we need to try some new and old items to understand everything and after that we will see."
Marquez confessed he risked it all, for the race of a win in front of his home crowd, but he never had the pace to truly match the two Yamaha's. Dani Pedrosa finished the race in third position, best of the non-Yamaha's but was 20-seconds behind Lorenzo. Marquez said he could've done that job, but it's "not my style".
"Today I took the risk and people will say 'why don't you finish the race'. Sure I can finish the race 20 seconds behind but you know it is not my style. Yesterday I say that now I am at the point where I need to take risks if I want to win this championship, but I cannot lose any race. 
"We lose the race, now it will be really difficult for the championship but the next target is to try to find the way to be as close as possible to both Yamaha riders. When you are trying to follow the [Yamahas] you need to ride 100% on the limit and then when you do a small mistake, like Mugello and here, you lose the race."
With his second fall in as many rounds, Marquez now finds himself 69 points behind current championship leader Valentino Rossi, and on a bike far weaker than that of his elder rivals. Despite this, Marquez insists he won't change his approach, with eleven rounds remaining in 2015.
"My approach will be the same. I don't have anything to lose now, so just the target is to try to arrive in the top level as soon as possible," he said.
"Of course now is the time to work hard and I want to thank my team because they finish this weekend at 11-12 each night working on the electronics and things. 
"I'm sorry for them because in the end I cannot say thanks with a great result. But when we win, we win together and when we lose, we lose together. We are working hard and really close."
Marquez will stay in Barcelona for tomorrow's post race test, where he will be hoping that he and Honda will be able to fix the issues that are stopping Marquez being able to battle to defend his crown.