Dall'Igna: Lorenzo takes away any excuses to not win a World Championship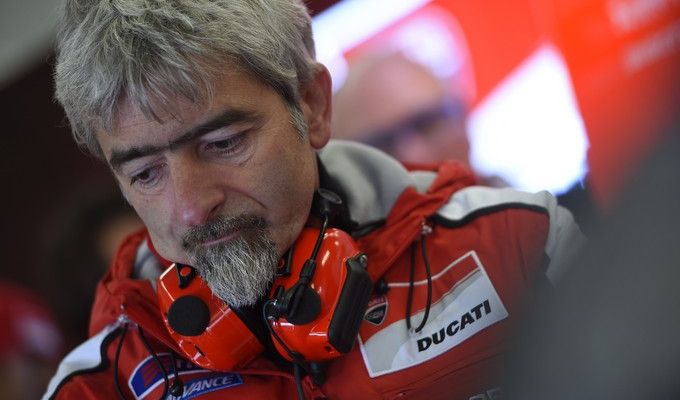 Gigi Dall'Igna has said that now Ducati have secured the signature of three-time MotoGP World Champion there are no excuses if they fail to win the World Championship next season.
Ducati confirmed on Monday afternoon that reigning MotoGP World Champion had signed a two-year contract with them for 2017 and 2018 after spending nine years with the factory Yamaha team. 
Current factory duo, Andrea Dovizioso and Andrea Iannone have one MotoGP race win between them -Dovi's win in changing conditions at Donnington Park in 2009 – and Ducati haven't won a race since Casey Stoner won at Phillip Island in 2010. In that time, Jorge Lorenzo has won 29 races and three MotoGP World Championships. 
Ducati Corse General Manager Dall'Igna is hoping that securing a multi-time World Champion will help Ducati go to the next level and claim the World Championship, a decade after Casey Stoner managed the feat in his first season with Ducati. 
Speaking to Sky Sports Italia, Dall'Igna said: "A champion puts an end to the doubts. Someone like Jorge, who has won five World Championships, takes away the final excuse you could have not to win a World Championship. 
"We are here to try to win it and we don't want any excuses. I think Lorenzo will be the right person to show it."
Ducati have taken huge steps forward since their reputation was destroyed in the Valentino Rossi era. Despite making multiple changes to the bike at the request of the Italian in a bid to fix the front end of the Desmosedici. Although Ducati and the Desmo have progressed significantly since the Rossi days, Dall'Igna is willing to adapt the GP17 to the riding style of Lorenzo. 
"Jorge has a very particular riding style. He is the fastest of anyone in corner speed," explained Dall'Igna. "A bike has a lot of adjustments, and I'm sure we'll find one that suits his style, although he will have to understand and manage it. I can't be unilateral; it's always a marriage that has to go together."
One of the factors in moving to Ducati for Lorenzo was the presence of Dall'Igna. Lorenzo trusts the Italian after helping guide him to his two 250cc World Championships in 2006 and 2007, when Dall'Igna was then with Aprilia. 
"Lorenzo and I have done many good things in the past. Clearly he remembers them all and I remember them too," explained the Italian.
"There's a lot of respect between us, that has helped. In the end, I think what mattered most is the progress Ducati has made in recent years."
Photos via Monster Energy and Ducati Corse