Ciabatti: It wasn't hard to convince Lorenzo; We also tried Marquez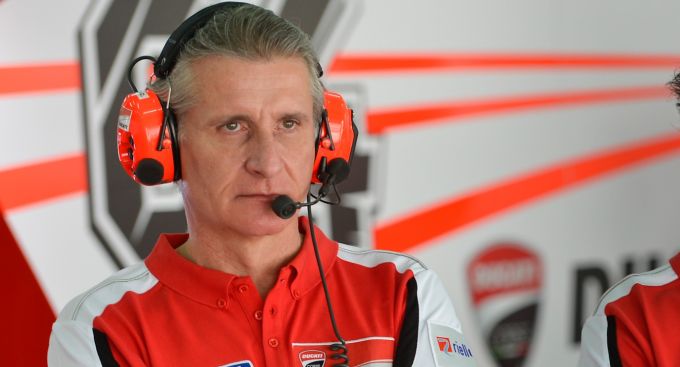 Paolo Ciabatti has said it wasn't hard persuading new Factory Ducati rider Jorge Lorenzo to leave the Yamaha team after nine years, whilst also admitting his team had attempted to sign Marc Marquez.
After weeks of speculation, Lorenzo's move to Bologna was confirmed, with the reigning World Champion signing a two-year deal that will see him in red for the 2017 and 2018 MotoGP seasons. Ducati confirmed the deal, just minutes after Yamaha announced that they would be parting ways with the Spaniard at the end of the 2016 season.
In a special panel programme on Sky Sports Italia, the Sporting Director of Ducati said that Ducati made their first contact with Lorenzo after Qatar, and that it wasn't hard to sign him after seeing just how competitive the bike was in a race setting.
When asked if securing the serviced of Lorenzo proved to be difficult, Ciabatti said it wasn't hard to convince him to sign.
"I would say no. This year all the contracts of the top riders were expiring, and with Lorenzo there had been a tentative approach some time ago," he said.
"Like in all these cases, it was quite a complex negotiation process, but we managed to then reach an agreement fairly quickly. I believe in the strength of our bike, which this year has demonstrated itself to be very competitive, paving the way for this agreement. We also looked at other riders, including Marquez," said Ciabatti.
Lorenzo's current contract with Yamaha runs until 1st January 2017, and whilst it is customary for factories to release their riders early, allowing them to get their first taste of the new bikes at the post-season test in Valencia in November, there is no obligation for Yamaha to do so, if they do not want to release Lorenzo.
In spite of this, it rarely, if ever happens and Ciabatti said he thinks Lorenzo will get his first taste of the Desmosedici at the Circuit de Ricardo Tormo in November. 
"It's conventional for all the manufacturers whose riders have chosen to leave for the following season to allow them to try out their new bikes. We haven't spoken to Yamaha, but we expect to be able to get on track with him in the Valencia post-race test," explained Ciabatti.
Photos via Ducati Corse and Movistar Yamaha