Yamaha monitoring Jonas Folger's progress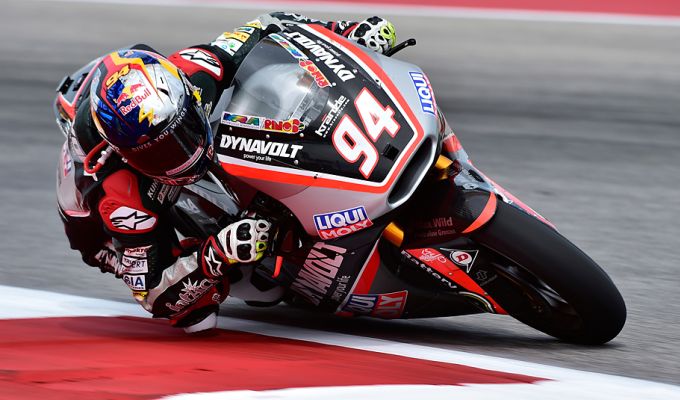 Managing Director of Yamaha Factory Racing, Lin Jarvis has admitted that Yamaha are keeping a close eye on the progress of young German Jonas Folger, with a view of signing him to the Tech3 team next season.
Silly season 2016 looks set to be dominated by the blockbuster move of Jorge Lorenzo to Ducati. Whilst Maverick Vinales is expected to replace the three-time MotoGP World Champion, Yamaha also have to look at their satellite team, who may be losing both riders.
Tech3 have already lost Bradley Smith to the Factory KTM team, whilst Pol Espargaro's rant on broken promises will've undoubtedly left Yamaha assessing all of their options closely before continuing with the 24-year-old.
Poncharal has previously gone on record as saying that Yamaha have a lot of say over who will ride for his team, whilst shortly before confirming his deal for 2017, Smith said that Yamaha are looking to go younger with their satellite team.
Both Jarvis and Tech3 team owner Herve Poncharal have confessed to being big fans of Alex Rins. The young Spaniard has been linked with Yamaha for three years after alleging to have turned down an offer to move directly into MotoGP with them two years ago.
However, Rins isn't the only young rider who Tech3 and Yamaha are tracking, with Jarvis admitting that they're also a fan of Jonas Folger. The German enjoyed a good start to the 2015 Moto2 season with the AGR team before tailing off later in the season. Folger has moved to the Intact GP team for 2016 enjoyed a good start to the season, even if a mistake in the season opener saw him crash out of what looked to be a comfortable victory.
Jarvis did say that arranging the contracts of the Factory Movistar Yamaha team was his priority, but that Poncharal had been negotiating for his seats in 2017.
"Herve Poncharal is preoccupied with discussions [for 2017]. In Texas the top management of our sponsor Monster was present, so I'm sure he has a lot of ideas," Jarvis said whilst speaking to German website speedweek.com.
"But from our point of view, our first priority is to look at the rider pairing in our factory team for 2017. After that we will discuss with Herve which riders will join his team."
When asked his opinions of Folger, Jarvis simply replied with: "He'd be a good choice."
Poncharal then told speedweek that whilst there are many talented riders in Moto2 in 2017, they're not all attainable, with different obstacles for different riders. 
"Franco Morbidelli is blocked out for two years with Marc VDS in Moto2. Sam Lowes is out of reach, he has an Aprilia contract for 2017 and Johann Zarco is under contract somewhere, I think he'll be with Suzuki," said the Frenchman.
"Then who is left? Rins, who has a lot of offers. Then you still have the rest that it's more or less… Folger is now under the management of the Aquarius Group. Rhys Edwards told me his current Red Bull contract wouldn't be a problem for 2017. Whether this is true or not, I cannot say.
"So far, I have negotiated with any riders. It's still too early. First I have to make inquiries with Yamaha. First they need to see who will take the second seat in the factory team, then we will see."
When asked more specifically about Folger, Poncharal said that whilst he had the speed, the 22-year-old had to display it on a regular basis.
"We know that he has the speed. But he may have show that he can constantly be among the top three in the Moto2 World Championship," he said.
Photos via Intact GP