Maverick Viñales claims career best finish in Austin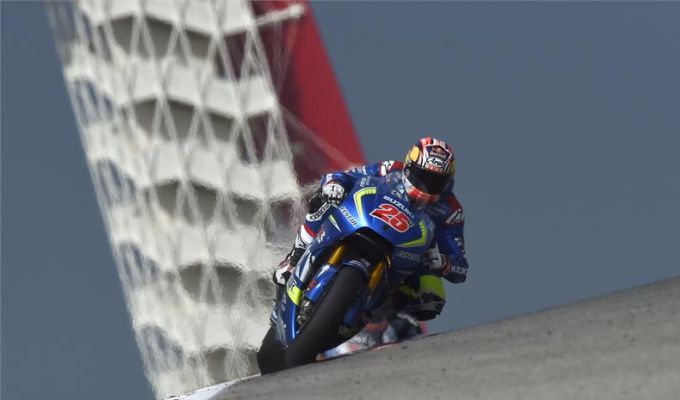 Maverick Viñales claimed a career best fourth position at the Circuit of the Americas in Austin, Texas, insisting the podium will come soon.
The 21-year-old is widely expected to leave Suzuki at the end of this season to replace the outgoing Jorge Lorenzo – who is on the verge of a two year contract with Ducati – and his performance in the Americas Grand Prix showed exactly why Yamaha are so hot on him.
Battling through the field after a disappointing start from the second row, Viñales eventually found himself battling with his Ecstar Suzuki team-mate Aleix Espargaro. Viñales managed to utalise his superior pace to get ahead of his team-mate, although the gap up to third place Andrea Iannone was already too big to close.
Despite having issues with the grip at the rear of his Suzuki GSX-RR, Viñales was frustrated to not convert his pace through the weekend into the podium, but after seeing the gap to the Ducati, the Spaniard decided to settle for a career best finish.
"Unfortunately we had some troubles with the grip at the rear tyre, I felt confident until almost half of the race, already thinking to be able to recover on the third place, but then the performance dropped dramatically and made the recovery impossible," explained Viñales after the chequered flag.
"At the end I decided to take the fourth and get to the finish. The result is positive, being fourth is my best result since I've been in MotoGP, but after the positive weekend it is a pity that we couldn't finalise an even better result."
Viñales and his Suzuki team-mate will stay on in Austin on Monday to test their Suzuki in a bid to find some more rear grip, with both Viñales and Espargaro's home race of Jerez just two weeks away.
"We have a day here to test and find some more solutions for the future, especially with the rear grip," he said. 
Photos via Suzuki-Racing